RANK: 7.5/10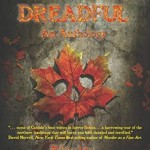 I'm a huge fan of short stories, anthologies, and any type of television shows like The Twilight Zone or Tales from the Crypt or movies like Creepshow. There is just something about a collection of short stories that can either scare you, thrill you, leave you in suspense, or maybe even make you sad.
Writers like Stephen King or Joe Hill have great collections of short story books, but America isn't the only ones who have great writers. Our good neighbors of the north, Canada, have some of the best and entertaining writers the literary world has to offer. Author, David Tocher, has brought together some of the finest Canadian writers to bring you a collection of really entertaining and scary stories just in time for Halloween. CANADIAN DREADFUL is a collection of 14 tales ranging from horror to fantasy to the unexplained. So, sit back and enjoy the ride for CANADIAN DREADFUL!
There were some stories I loved and some that were decent tales. Some stories such as, Centre Ice, Memories of Miss Mindy Tulane, and His Cold Coffin are all good tales with satisfying endings. Whereas stories such as, The Mansion and Two Trees are really good and something to read at Halloween time or around a campfire. Nowhere Time was very good, sad, but reminded me a lot of The Twilight Zone and that's a good thing. A lot of these stories have sad endings or very twisted endings, but there are some that stand out such as, Stag and Storm, Snow Angel, Rebecca Raven (I enjoyed the Author's Note on this one especially). However, there is one story above all that I would say is my favorite out of them all: The Delivery Boy. I REALLY liked this story a lot! Twisted and weird, but scary enough to share around a campfire. I would love to see an adaptation of this story someday.
CANADIAN DREADFUL is refreshing and fun to read. I liked that all of the stories took place in Canada which makes it fun for readers in other countries to get an inside look of what it's like in their country…even if it means in a scary way. This anthology is a nice collection of creepy, yet entertaining stories that are refreshing to read. I find it interesting to read a different type of storytelling that takes place outside of the United States, it is just as enjoyable. I even love the cover of the book: A nice orange and red Autumn leaf with a SCARY image on it! This is a book I would recommend not just during Halloween time, but anytime.
RANK: 7.5/10
Tags: CANADIAN DREADFUL, David Tocher
Posted in Horror by Tony Northrup on October 20th, 2019 at %I:%M %p.