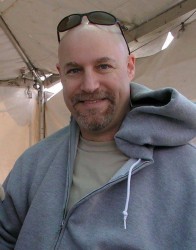 Our feature director is originally from Bangor, Maine (home of Stephen King himself and most of his stories take place there as well). Jeff studied at NYU and graduated in 1982. He has directed many short films, television films, and documentaries.
He has worked on such films such as, Secret Worlds, Manhunters, True Tales of the Texas Rangers, The Deadliest Warrior and of course, the very first "Dollar Baby"; The Boogeyman. He is a writer, director, and currently works as the Senior Editor at the Morningstar Entertainment.
(Q.) Out of all the Stephen King short stories, what attracted you most to this one?
Ultimately there were probably 3 things that attracted me to The Boogeyman. The first was the surprise ending. Growing up I was always a big fan of The Twilight Zone, because you knew each show would end with a twist. Second, I was always a big fan of psychological horror and this seemed to fit into that category. And third, I can remember being a child and thinking that "something" might be in my closet!
(Q.) What changes did you make to make this your own as opposed to King's original text?
Well, for one the short story never leaves the psychiatrist's office, while the film does. The story works brilliantly within the confines of the office, but cinematically it would have probably been a bit boring to keep it there. So, I brought in a couple other characters and added some scenes that I thought would be visually and dramatically interesting.
(Q.) So many Stephen King fans want adaptations to be as close to the book as possible, how do you handle the pressure to keep the fans happy?
This is the only King story I have done, but I can understand that point of view. Stephen King is a very visual story teller. So, when his films are adapted, people tend to want that same feeling as reading the book. On the other hand, the written word and pictures on a screen are two very different mediums, and sometimes you just have to take liberties to make things work.
(Q.)What was your main goal you wanted to achieve about this film?
Making a film is always a personal journey. When I started The Boogeyman, I think what I really wanted to achieve was to make a watchable film! It was about bringing a creative vision to life.
(Q.) Where were the house scenes filmed at and were there any difficulties filming on location such as that?
I made the film while I was a college student in NYC. The house, which was in Brooklyn, belonged to the family of a classmate. They weren't originally so keen on having me film there, but as it turned out, my cinematographer was renting one of the rooms for the semester, so he pulled a few strings.
(Q.) There is a debate of just what was the first "Dollar Baby" film ever: The Boogeyman or Frank Darabont's Woman in the Room, Can you shine some light on that debate and clarify which is truly the first one?
I suspect both films were being made at nearly the same time. I finished The Boogeyman in 1982, while The Woman in the Room was completed in 1983.
(Q.) This film has a very "grindhouse" early 80′s horror look to it which I loved, do you prefer "old school" horror to today's "paranormal" and "reboots" of this generation's horror films?
I think either "schools of horror" can work equally well. The Boogeyman has that gritty look, partially due to the fact that it was shot on 16mm. The truth is, these days you can shoot something and make it look like just about anything. But, as always, a film is only as good as its story.
(Q.) There have been many "Dollar Baby" versions of The Boogeyman, do you feel the father was just really imaging all of it or did he really do it?
That's almost a trick question! And it will always be up for interpretation. But, if I had to choose one…I don't think the father was imagining.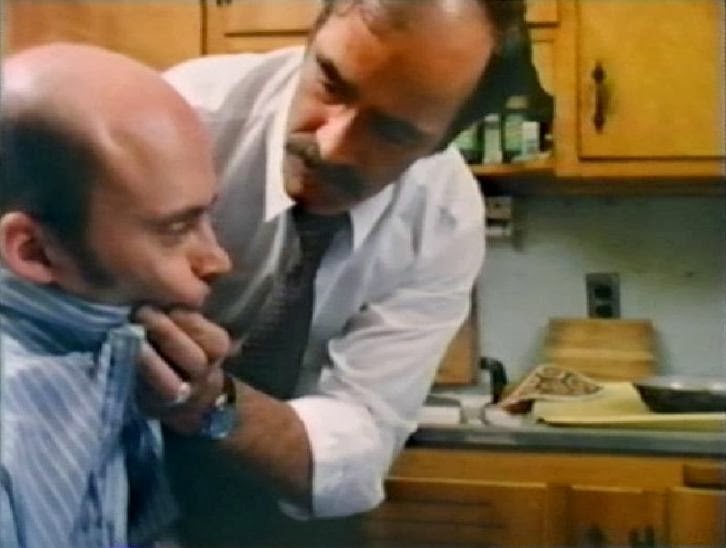 (Q.) You are one of the "godfather" filmmakers of "Dollar Babies", tell us what those early years were like for a filmmaker and do the new "Dollar Baby" filmmakers have more advantage now?
The original deal I had with Stephen King asked for $1 and a betamax copy of the film. (Just to show you how long ago it was!) For years I thought I had a special deal because I grew up in Maine. It wasn't until much later that I found out there were loads of dollar-deals! As for making the film, it was a challenging proposition since I was student and was on a limited budget. It was shot on 16mm film, and edited on what was known as a flatbed. It ultimately took two years to complete. If I made the film today, I suspect the shooting days would have been the same, but the time and money spent on post production would have been cut by 2/3rds. For today filmmakers, I believe technology has made the process much more efficient and allowed for smaller budgets. You can shoot a film on a DSLR and edit a film on your desktop. Of course, making a good film is still as hard as ever.
(Q.) What is your greatest moment so far with the success of The Boogeyman?
I think the greatest moment was probably actually finishing it! That said, one highlight was when Stephen King showed up to a screening I had in Maine. Also, that he liked the film enough to allow it a commercial release. And recently I had someone track me down who told me that when he was kid, he practically wore out the VHS tape he had of The Boogeyman.
(Q.) What Stephen King story would you like to adapt on a large scale?
Well, I always thought The Running Man could use a remake.
(Q.) Final question, What's next for Jeff Schiro?
I'm a working editor in Los Angeles, so I'm generally surprised at what comes my way!
Posted in Interviews by Tony Northrup on July 21st, 2014 at %I:%M %p.