RANK: 8/10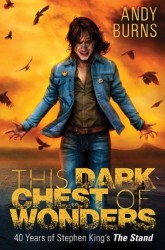 Ask any die hard fan of Stephen King, one of the worlds greatest writers of all time, what their favorite book is, and of course the answers you get will vary. Some will say, IT, others might say, PET SEMATARY, or THE SHINING, or you might get another answer being that there are 60 other book titles he has written. However, the most consecutive answer you are likely hear is: THE STAND.
This classic tale is about a deadly flu virus that wipes out 99% of the population, and those who survivare left to do battle with Randall Flagg, the worst nemesis in the Stephen King Universe. This is the ultimate battle of Good vs Evil.
As of this past September, 2018, Stephen King's classic tale turned 40 years old! There has been a rerelease an uncut version, a tv mini series in 1994, directed by Mick Garris, and a comic book adaptation by Robin Furth, aided by the amazing staff at MARVEL Comics, so it stands to reason, a book celebrating this wonderous story should be released in honor of the 40th anniversary of … THE STAND.
Author Andy Burns, and Cemetery Dance Publications, have now released a handbook, if you will, honoring author Stephen King, and the many fans around the world, who have kept this story alive through the decades. It is my pleasure to bring you this review of the now released, THIS DARK CHEST OF WONDERS: 40 years of Stephen King's THE STAND. As a die hard Stephen King fan, I couldn't wait to dig into this book, as THE STAND, is such an amazing story, laced with amazing quests, and enjoyable characters (good and evil). It's a story that mesmerizes, and captivates the reader, leaving them wanting more.
Andy's book begins with the introduction, his personal thoughts and feelings regarding the author Stephen King, and of course his viewpoint of, THE STAND. I found it interesting, and even funny at times. This book is broken down into parts, and chapters.
Part One, is about the road to the end of the world, the ominous Randall Flagg, where he fits into Stephen King's Universe, and Robin Furth's thoughts on Randall Flagg. I found this section interesting, and liked how the writer tells all that King went through to write this book. This section also has great interviews with both Bev Vincent ,and Robin Furth. Part Two, we learn about the television mini series, THE STAND, which aired in 1994, and was brought to us by legendary director, Mick Garris, who has to date, directed more Stephen King adaptations than any other director. His interview was informative, fun to read, and he spoke of what went on in making this mini series. This section of the book also covers the music chosen by W.G. Snuffy Walden, and an interview with actor Jamey Sheridan, Randall Flagg himself. I also loved the behind the-scenes stories that were told. Part Three, completely deals with the audiobook version of THE STAND. There is an interview , and a behind the scenes look, with Grover Gardner..
Part Four, brings us a behind the scenes look, and interviews with those involved with the 31-issue comic book adaptation of, THE STAND. Again, great interviews, and interesting stories explaining how this epic tale went from book ,to film, to comic book. THIS DARK CHEST OF WONDERS, wraps up with an enjoyable section entitled, M-O-O-N :Spells What's Next? – this is a great section for those who are wondering if THE STAND, will hit the big screen, and what may come next.
Bottomline: I also enjoyed the, Encyclopedia of Characters, section in the back. This is a great reference for those reading THE STAND, for the first time, and gives them a sense of who's who, and I even learned some new things about some of the characters, and their backgrounds! I found, THIS DARK CHEST OF WONDERS, a fun read, interesting, and a "must have handbook", for any fan of the novel, THE STAND.
I highly recommend .. THIS DARK CHEST OF WONDERS: 40 Years of Stephen King's: THE STAND.
RANK: 8/10
Posted in Horror by Tony Northrup on November 25th, 2018 at %I:%M %p.