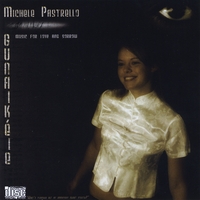 Fascinating, this is the adjective best representing Michele Pastrello's record. Rarefied atmospheres and wrapping sounds setting through the thirteen tracks shaping a work up to its ideas.
There are interweaving tolls of piano sealing ambient tracks ("Mateera -blood of my blood-", "Isabella -rage in the city"), major keys creating delicate songs with faint pop assonances ("Kate", "Eleonora"), tribal percussions and male/female vocals weaving together with a new age taste painting wonderful natural landscapes ("Zoe -ngain's pain-", "Marcia – tears-") and a sort of avant-garde ("Adele").
Higher outcomes are touched when atmosphere becomes more melancholic with "Magda" and "Tamlin", but the real apex of Gunaikéie is the superb "Tanya" supported by a piano riff simple as effective. This last one is part of the "32" soundtrack, a film shot by the same Pastrello, a multifaceted artist who, in this musician form too, shows his capabilities.
Tracklist
1. Iside
2. Mateera -blood of my blood-
3. Melissa (solo tu il mio amor)
4. Tanya (32, movie theme)
5. Isabella -rage in the city-
6. Imogen
7. Kate
8. Zoe (ngain's pain)
9. Tamlin
10. Magda
11. Marcia (tears)
12. Eleonora
13. Adele
It's possible to watch "Mateera -blood of my blood-" videoclip by visiting:
www.myspace.com/michelepastrellomusic
It's possible to listen to song and buy album by visiting:
http://cdbaby.com/cd/michelepastrello
Contacts
E-mail: info@michelepastrello.it
Myspace: www.myspace.com/michele_pastrello