RANK: 8/10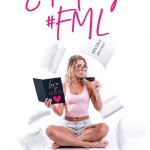 Gabrielle Stone isn't just any author, she comes from Hollywood royalty. Her parents were in some of the biggest films of all-time. Gabrielle is the daughter of famed actress, Dee Wallace (Stone), who starred in THE FRIGHTNERS, CUJO, and many other films, but many of us recognize her most as that sweet ,but dynamic mom, in the classic 1980's film, E.T. Dee also shared the screen several times with her late husband, Christopher Stone, Gabrielle's father, notably, the 1980's horror film, THE HOWLING, as well as CUJO. His career as a lucrative actor and director, spanned the 1970s and forward, until his untimely death in 1995.
It's no wonder with parents of this caliber, that Gabrielle herself, has created such an impressive film career. She has starred in many films such as, SPEAK NO EVIL, CUT!, FLOWERS IN DECEMBER, and IT HAPPENED AGAIN LAST NIGHT. These are just several of her achievements. Along with being accredited as a talented actress and dancer, she now adds the title of author to her portfolio. EAT, PRAY, #FML, is her newly released book, which is sure to captivate its readers hearts.
EAT, PRAY, #FML, is largely autobiographical, and in part romance/self help, but as a whole, it's all truth! Gabrielle decided to write this book after events in her personal life became a disaster, shortly after her married life began. Assuming she was now happily married, after a beautiful 2015 wedding, and only a year and a half into the relationship with her new husband, Gabrielle began having suspicions that he was cheating on her. To her utter shock she found it to be true. Not only was he cheating, it was with a 19 year old young girl. Saddened, and angry, Gabrielle was at a very low point in her life. The marriage was over.
As she began making some semblance of her life, she met a new man, one she thought the hell she'd had gone through, was certainly worth waiting for. It seemed that life had begun again, and all was wonderful. Gabrielle and her new man had planned a wonderful trip together, but when it rains it pours, once again her heart was broken.
Just 48 hours before the two of them were to go on a romantic adventure together, he revealed to her, he needed to the make the trip alone. By himself? She was at a loss for words, and devastated. So, what does one do? Well, Gabrielle did what made perfect sense to her, take that trip… by herself! So begins a roller coaster of life, love,, romance, night long parties, clubbing, beautiful destinations, and a lot of amazing food, and I mean… A LOT of food!
EAT, PRAY, #FML is a personal journey Gabrielle needed to take, not only to get away from the heartbreak, heartache, and loss of what she had gone through, not just once, but twice. She needed desperately to find herself again, and she would experience life in a way she had never expected.
From beginning to end, this book takes you every step of the way on Gabrielle's journey, across the beautiful continent of Europe. Gabrielle takes you on a guided tour of her own, with her descriptions of the beautiful locations, the wine consumed, and the mouthwatering food she enjoys along the way. She truly makes you feel as though you're along for the ride.
I liked the tongue-in-cheek attitude of how she headed each chapter. It's as though she took it in stride, with chapter titles such as, "F**K Love" or "F**K the Morning After" or "F**K Emotions" and so forth. The other little unique thing I enjoyed was the bit of advice Gabrielle would include with each chapter, which I like to call the therapeutic parts of the book. I try to include some of these in my own life, along with her, "self love cocktail".
I found this book enjoyable, but there was one chapter in particular that I really found applicable to my own life. The chapter entitled, "F**K Materialism", includes a visit with an old Greek man, Jimmy, who gave great advice about life, marriage, and what's really important. As a married man, this chapter touched me, and I thank Gabrielle for sharing this part of her story.
There are not only sad moments in this book, but also funny, adventurous, and even a few provocative situations. Gabrielle has been very transparent in her book. However, her journey does come to an end, but it leaves the reader glad she took them along with her.
Bottomline: I have to congratulate Gabrielle for making it through all of this. There are so many ways a person could have handled all of what she sustained, in such a short period of time. Although I enjoyed the book in its entirety, there are several little things that I really liked. For instance, "Thought Onion", which takes a scenario, and breaks it down into layers. Clever and interesting. This book is not just for women, but rather, for everyone as it also gives the male reader a good perspective as well, on just what not only women go through in relationship difficulties, but men can relate as well. Gabrielle is completely open in this book. She is blunt, and has a no holds barred attitude, and I enjoyed her, "tell it like it is", way of storytelling. Gabrielle opens the doors to her life, and invites the reader right in. EAT, PRAY, #FML, is definitely one of the best books of 2019.
I asked Gabrielle how she felt after this, lift of burden, so to speak, off her shoulders? As well as now that her story has been told, where it puts her as a person, a survivor, and as a writer? She replied, 'I'm in a very good place right now, extremely happy, and giving myself, a self-love cocktail daily! It's been wonderful to see how my journey is helping others in their own lives.' When I asked if a sequel was possible to EAT, PRAY, #FML, Gabrielle replied, ' That is the million dollar question! I've had a lot of inquiries about a possible sequel, and it looks like it definitely is a strong possibility. To be determined.'
EAT, PRAY, #FML , is a real life journey, that takes us along the path to healing, helping ones self, and a beautiful quest through several countries. There are little wisdom's imparted along the way, and they serve to enlighten the reader. There are a lot of fun and adventurous activities happening as well.
RANK: 8/10
Regista/Director: Gabrielle Stone
Tags: #FML, EAT, Gabrielle Stone, PRAY
Posted in Experimental by Tony Northrup on October 12th, 2019 at %I:%M %p.