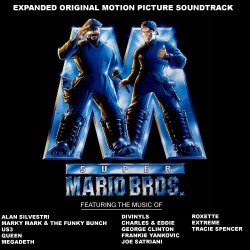 Everyone's favourite plumbers Mario and Luigi's live action big screen adventure Super Mario Bros gets its long-awaited first ever UK Blu-ray release thanks to Second Sight. With an all-star cast, including the legendary Bob Hoskins alongside John Leguizamo and Dennis Hopper, this madcap caper gets the high-def treatment on Blu-ray and is also released on DVD complete with a slew of fantastic bonus features on 3 November 2014.
Brooklyn plumbers Mario and Luigi get the shock of their lives when they discover a parallel world populated by the intelligent descendants of dinosaurs. It seems they weren't destroyed by a meteor millions of years ago, but hurled in to a new dimension and now have plans to take over the world. The unlikely heroes must battle the evil King Koopa and his 'Goomba' guards, free the beautiful Princess Daisy and save mankind in this adventure of a lifetime.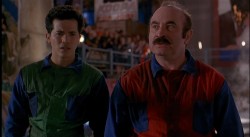 Bonus features include:
- 'This Ain't No Video Game' – Brand new 60 minute documentary featuring new interviews with: CoJdirectors Rocky Morton and Annabel Jankel, Producer Roland Joffe, Actors John Leguizamo and Richard Edson, Writer Parker Bennett, Production Designer David Snyder, Art Director Walter Martishius, FX Artists Paul Elliot, Vincent Guastini and Rob Burman, Visual FX Designer Chris Woods, Editor Mark Goldblatt and Creature Designer Patrick Tatopoulos. Archive interviews with Bob Hoskins and Producer Jake Eberts
- Making Of
- Original Electronic Press Kit
- BehindJtheJscenes/Storyboard Galleries
Title: Super Mario Bros Blu-ray
Release Date: 3 November 2014
Cat.No.: 2NDBR4036 Feature
Running Time: 105 mins approx
Region code: B
Aspect Ratio: 1:85:1, 1080p/24 fps.
Audio: DTS-HD MA 5.1 / LPCM Stereo
Title: Super Mario Bros DVD
Release Date: 3 November 2014
Cat.No.: 2NDVD3267
Feature Running Time: 101 mins approx.
RRP: £15.99 Cert: PG
Region code: 2
Aspect Ratio:1:85:1/16:9 Anamorphic Widescreen
Audio: Dolby Digital 5.1/2.0
Posted in News by Giulio De Gaetano on September 27th, 2014 at %I:%M %p.