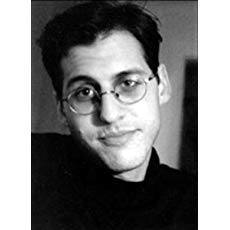 Bryan Higby was born May 17, 1974 in Lowville, New York. He studied at the Lowville Academy Central School, and continued his studies at the State University of New York, at Potsdam, where he graduated with the class of 2000. He has a Liberal Arts degree from Jefferson Community College, and a Bachelors degree in theater arts from Suny Potsdamn, in Potsdamn, New York.
Bryan was also the co-creator/co-owner of the off Broadway Black Bottle Bunbury Theater Company, in Jamestown, New York, from 2001-2006. Bryan has directed several plays, including a theater version of Stephen King's MISERY. Along with plays, Bryan has produced two short films: Speaking But Not Actually, and Billy Gone Home. After moving in 2009, he co-produced/directed three more short films: BUFFALO STYLE, MORGUE PI, and HOW I LEARNED TO STOP WORRYING AND KILL MY MOM. He's also an acclaimed author of 35 novels and counting. Bryan currently lives in Greenbush, New York, with his wife Amy, and their family.
Tony Northrup – What was it like growing up in the historic state of New York, and when did you first discover the works of Stephen King?
Bryan Higby – Northern NY was great. I spent my childhood fishing and camping, and watching movies at the Town Hall theater, which is an old 1920's movie house. My parents also took us to the drive in theaters all the time. My parents got me into movies from an early age. T hey actually owned their own video store, Cutting Edge Video, from the early 1990's until the place burned down in 2007. I knew Stephen King through the films based off his works; Carrie, Salem's Lot, Christine, The Dead Zone, Silver Bullet (one of my mom's favorites). I started reading King when I was 16. I bought a paperback edition of the unabridged version of the Stand in 1989, and never looked back. My parents actually bought me a subscription to the Stephen King library for about a year, and I got several hardcovers through that.
TN – You've worked a lot in theater and plays. Is it more of a challenge than working with film, and if so how so?
BH – Theater was my back up plan, LOL! I wanted to be a writer and filmmaker, but didn't have a film reel for NYU, and couldn't afford it anyway. My cousin and writing partner Ricky Snyder, was planning to go to Suny Potsdam for theater, so I figured why not. I acquired a bachelors degree in theater. Theater has its own challeng,e in that you receive immediate feedback from your audience. There are also lots of block restrictions with theater that you don't have with filmmaking. I've always heard the saying that: Television is a producers medium, theater is an actors medium, and filmmaking is a directors medium. What they don't tell you, in all three you need a writer to start the engines of creativity. That's me!
TN – You directed the Stephen King novel MISERY, as a play. Share with us your memories of that project?
BH – Misery on stage was fantastic. The play was a very loyal adaptation of the novel, going as far as severing Paul Sheldon's foot. We actually did that on stage, but came up with a way to stage it so that the cutting of the foot was between flashing of lightning. We also had a great artist Greg Peterson, who is known for his Lucille Ball murals, create an entirely realistic axe head made of foam rubber attached to a real wooden axe handle. The actress I cast as Annie Wilkes, was not an actress at all. Funny story. I was working at a donut shop in Jamestown NY where we had our black box theater, The Bunbury Theater company. One day while working, this big farm girl came into the store and I immediately think – Holy Cow I'm seeing Annie Wilkes. She was big, creepy, and loved Misery the novel and the film. I offered her the role right there in line at the donut shop. She was thrilled, and she killed it. Our theater was in the industrial basement of an old folks home, and we built a huge rotating stage. This allowed us to build the entire interior of Annie Wilke's home, and then stage hands pulled out long steel bars that were slid into the stage, and rotated the stage on cue. It was amazing. I think I might still have video of that production. I'll send you some stills. We received rave reviews in the local paper, and as far off as Buffalo.
TN – When did you begin your career in writing? Was it before ,or during the time you worked in theater?
BH – I wrote my first novel when I was 17. This would have been about a year after reading King's novels The Stand, The Gunslinger, Drawing of the Three, and Needful Things. I knew this was what I wanted to do. So I took about a year and wrote a Horror/Fantasy novel titled The Lighthouse. It was written out in longhand in like five notes books. I still have them in a lockbox at home. My second book was written in 1996. I was maybe 22. This story was titled, The Diary of a Logos, and was inspired by Franz Kafka and William Burroughs. That novel was the first one I ever published in 2005 with a small press in Maryland. The sequel, A Logos At Large, was published in 2006. Neither were commercial successes. Also from the early 1990's until the late 1990's, I wrote, and shot several no-budget short movies on analogue, and digital video. That was a huge learning experience. I don't consider my writing career starting until 2013, when I met bestselling author Joe Konrath, of the Jack Daniels thriller series fame. By then I'd written maybe six traditional genre novels. Joe was the writer who inspired me to self-publish. I was like, are you serious that's for losers. LOL! What I didn't realize was that through self-publishing, there were no gate keepers, no one to say no. I could write what I wanted, how I wanted, and then have the books professionally copyedited, and I could then publish as many as I'd like. It's proven good. It's also given me a motivation to keep writing. In the last 6 years I've written 29 novels in the Horror/Fantasy/Thriller genres. I love every day I can write.
TN – Who are some of your writing and filmmaking inspirations?
BH – Stephen King, Jack Kerouac, William Burroughs, Joe R. Lansdale, Bentley Little, Franz Kafka, just to name a few writers who inspire me. David Lynch, Stanley Kubrick, The Coen Brothers, Frank Capra, Billy Wilder, John Carpenter, George Romero, George Lucas, just to name a few filmmakers that inspire me.
TN – How, and when did you first learn about the Stephen King Dollar Baby Program?
BH – I'd heard a story that Stephen King sometimes offered students, or independent filmmakers, the permission to do film versions of his short stories, at least 20 years ago. I didn't think about it again until one day I looked at my life and said, 'well you've written 35 novels, produced nearly 100 podcast episodes, directed theater, and film productions. You oughta have a higher profile than what you have now.' Then I asked myself, 'who could help? Which authors could help?' So I emailed writers I liked. F. Paul Wilson, Joe R. Lansdale, William Hjortsberg, Barry Gifford, Joe Konrath, Hugh Howey, and Blake Crouch. Some of these writers have become friends, but none of them have the pull that Stephen King has. So I visited King's website and looked at the millions of posts and despaired. Finally I noticed a section titled – Self Promotion, and thought that sounded kind of sleazy, but there were only 500 entries, so what the heck. I did a post, all in caps – DROWNING WRITER LOOKING FOR A LIFE JACKET!!! In this post I said I had three Horror EC Comic style novels, Pizza Man, Taco Bandits, and Chuck A Chik , that I think Mr. King would get a blast out of. Could I send them for the heck of it? Later that day the domain master contacted me and said if I was serious, she'd send me King's Bangor office address. That was Marsha DeFilippo, King's personal assistant since the late 1980's. I sent my three novels, and Marsha assured me they were in Steve's office, with no guarantee when he'd read them. Speed ahead a few months later. I read about some students in England who just got permission to do Stationary Bike. I emailed Marsha asking if I could do, Here There Be Tygers? She said go to the site, fill out the form, and we'll see. I did. Not long after, Margaret Morehouse, King's secretary sent me the contract. I signed it, and sent it back, and received a confirmation on November 2nd, 2018.
TN – Out of all the Stephen King short stories, what attracted you most to the story, HERE THERE BE TYGERS?
BH – Here There Be Tygers, just rang with truth for me. I read it a,s a small child who was bullied, and finally fate steps in and the bullies get theirs. It was simple and direct. I never looked deeper. It wasn't until after we shot our version that I read all this stuff about how Charlie was nuts and all this. So my version is very pure. I used actors who were Charlies age, and did not over dramatize the subject matter. Filmmakers for some reason think they need to change King's source material and I'm always saying – WHY?! Stephen King is the most bankable writer to date. Don't change a thing. Especially when your story is only two and a half pages long. LOL!
TN – What changes did you make that made it your own, as opposed to King's original text?
BH – The only changes I made were in the sexes of the characters. Charlie became a girl, and her bully became Jenny Griffen, not Kenny. I also changed Miss Byrd to Mr. Byrd. These changes were all made for practical reasons. I decided to do the film because of my daughter Harper, who played the lead, my niece Sophia, who played the bully, and my long time collaborator, and actor friend, David Wilder.
TN – What was the main goal you wanted to achieve with this film?
BH – My main goal for this film was to tell King's personal story about bully as purely as I could, as well as have a heck of a lot of fun doing it. There was also the alternative motivation, and that was to play in King's sandbox, and help promote my own work to King fans, because I know they'd love my stuff.
TN – Where was the movie filmed specifically, and were there any obstacles to overcome while filming there?
BH – We shot the film at Hudson Community College in Troy NY. We cast the film using Drama Kids International. The casting process was quick and easy. Securing the location presented a problem at first because the original elementary refused to allow us to film there. Debbie Gardner, at Hudson Valley Community College was a God send. My major problem, I was the only crew. My wife, and actor friend David Wilder helped set the location, but I did all the technical work, which turned out to be a problem because the original audio recording did not come through. I had to go back to HVCC and record all the foley sounds myself. I also had to record the actors voices again, and loop it into the film, which is why the audio sounds kind of funky. The cast was outstanding. Everyone did such a stellar job.
TN – How long was the film shoot and process from start to finish?
BH – The screenplay took maybe 2 hours to write. We're talking about a 2 and a half pages short. I arranged a shoot at Hudson Valley Community College, in Troy NY, on March 26th. We shot one Saturday for about 4 hours. I did have to go back a couple of weeks later to record more audio.
TN – Share with us some of the challenges and behind-the-scenes funny moments working with kids?
BH – Well all the kids were great, but there were a couple who really played it. The boy at the very end, that looks from Charlie to Jenny's empty chair said to me, 'Maybe I should look at the missing students chair.' I said great lets do it. We also had the cast decide that they wanted to do some crazy stuff while Mr. Byrd was out of the classroom. So we did a couple of takes of complete improve, which didn't make it into the film, lol!
TN – Explain to us some of the challenges of creating the tiger for the film?
BH – The tiger was tough. Initially I thought that there was no way we could show any of the tiger. Just kind of hint at it. Actually at that point I started thinking maybe we should do more of an existential version, where everything is a projection from this crazy kids perspective. Then I thought no, that changes my initial love for the story. Then I played with the idea of using prop tiger parts. Like show a paw here, or a tail there, and include the sound effects. Then I said screw it, let's see if we can get a real tiger, and cut that in. We did.
TN – What is your greatest moment so far with the success of HERE THERE BE TYGERS?
BH – Well, Here There Be Tygers, hasn't had it's official debut yet, but we do have a Stephen King Dollar Baby Film Festival scheduled, at the historic Town Hall Theater, in Lowville NY on October 19th, at 10:00. We will also be playing 8 other dollar baby films there. Also Hudson Valley Community College booked me for a speaking engagement on November 22nd, at 7:00 PM, where Here There Be Tygers, will show along with three other Dollar Baby films. The most surprising thing was Jared Case, the curator for the George Eastman Museum in Rochester, contacted me. He said that he wanted to do a Stephen King in film retrospective in October, and got some of my contacts for the other dollar babies. My version of ,Here There Be Tygers , will be archived in the Kodak film archives forever. That's pretty cool. Also we might have a special guest for our October 19th festival in Lowville, fingers crossed.
TN – Lastly, what is next for Bryan Higby?
BH – I have two new novels that I'm working on now. One is a horror novel: The CarLowDen Chronicles. The second novel is a literary novel that I'm very proud of titled, Old Men. I t's a novel about faith and magical realism. I'd like to play more in Mr. King's sandbox, and would love to meet the guy just for a chat. You can also listen to a 90 minute podcast between David Wilder, who played Mr. Byrd in our film, and myself at the podcast link below.
Posted in Interviews by Tony Northrup on September 1st, 2019 at %I:%M %p.