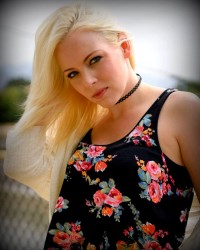 One of my favorite interviews was with a local Minnesota actress, who is now making her mark on Hollywood, and is also showing off her talents as an author. I'm speaking of Actress/Writer… Sarah French. I first interviewed Sarah in August 2015, for the Tri County Sun, which appeared in the August 12th issue. My, how time flies, and I've been busy since then, but not nearly as busy as Sarah has.
The beautiful blonde actress from Minnesota, now has several films added to her portfolio since I last caught up with her, which include films such as, MONSTERLAND, THE NIGHT WATCHMAN, LAND SHARK, THE AMITYVILLE MURDERS, and several others. However, in between her busy acting schedule, Sarah has managed to find time to include writing as one of her new ambitions. She and companion, Joe Knetter (writer, actor, and director), decided to collaborate, and recently put out a book on something they both share a passion for: GHOSTS! Their first book, in what appears to be an on-going series, is called… HAUNTED JOURNEYS: SALEM.
TN: Our last interview together was July of 2015, and you were promoting your latest film at the time: INSECTULA. What have you been up to (film wise) since then?
SF: I've been staying pretty busy since I talked to you last. Let's see… I just worked on a new film by Jordu Schell, famous creature designer, in his sci-fi/horror directorial debut, "Remote Viewing". To give you an idea, the tag line for this is, "In a small Ontario research facility, team 12-B has stumbled upon something very dangerous, very powerful… and very intelligent." Beautiful sets and killer effects, I'm really looking forward to this one. I'm pretty excited for, "Death House". I did a small one day cameo in it, but the crew and cast were great. It's full of horror icons, and I finally got to work with Sid Haig, which was very cool. Oh, I should mention, "My Uncle John is a Zombie". Written by John Russo, the co-writer of the original, Night of the Living Dead. That is currently in post-production. I play a detective in that one, and have some very cool scenes. Plus we shot in the Evans City Cemetery. How cool is that? I just shot a slasher film on old school VHS called, "Axe of Violence"…. Yes shot on VHS. Crazy right? I grew up watching VHS, so I was excited to be a part of that! I finally got a chance to work on a shark movie called, "Land Shark"! Haha, I had a blast with this one. I get to play a scientist. "Land Shark", is set to be released May/June of this year, so keep your eyes peeled. I also got a really cool opportunity to work a few days on a new Amazon Prime TV show, starring Kelsey Grammer, "The Last Tycoon". It takes place in old Hollywood in the 1930's, so I got to dress in that period. It was such an honor to work on that show. I also got the chance to work on the new biopic on Lynard Skynyrd, "Street Survivors". Amazing cast and crew, really looking forward to that one as well. Lots to keep an eye on!!
TN: You started your career with modeling, then got into acting, and now you can add "writer" to your list of talents. What made you decide to enter the book world now?
SF: I've been going to haunted locations/infamous places with my boyfriend, Joe Knetter, for years now. I wanted to work with him on something other than film, and fans have been asking us about possibly writing a book on our travels together. So that kind of gave us the spark to start writing about our experiences on our travels. It's another thing we can do together as a couple, plus Joe is a published writer, so that definitely helps me.
TN: Do you have any authors that inspire you as a writer?
SF: I'm still new with this whole writing thing, and what I co-wrote was non-fiction. But if I had to choose an author, it would be Stephen King. I grew up watching the films based on King's books. It wasn't until the last 5-10 years I started reading his books. But I've got to say, I'm loving them. The most recent one I finished was, "Pet Semetary". That's always been a favorite film of mine, so it was great reading the book and learning more about characters and other things that weren't in the film.
TN: Your companion, Joe Knetter, co-wrote this book with you. Tell my readers a little about Joe, and what it was like being on the road with him during this project?
SF: I met Joe on my very first film, "Pajama Party Massacre", back in 2007. He played the killer, and wrote the film. Joe is an established writer, whether its books, or screenplays. He's 6'3", bald, big beard, is tatted up, and looks like a menacing killer, but he's just a big teddy bear. We decided to write this book many years after visiting these locations. As far as going to these awesome locations together, its two peas in a pod. Joe and I love traveling together. We're both into the paranormal, historic, and infamous locations. We were meant to be together because we both love the same things. To be able to travel together, and do this, is a dream come true.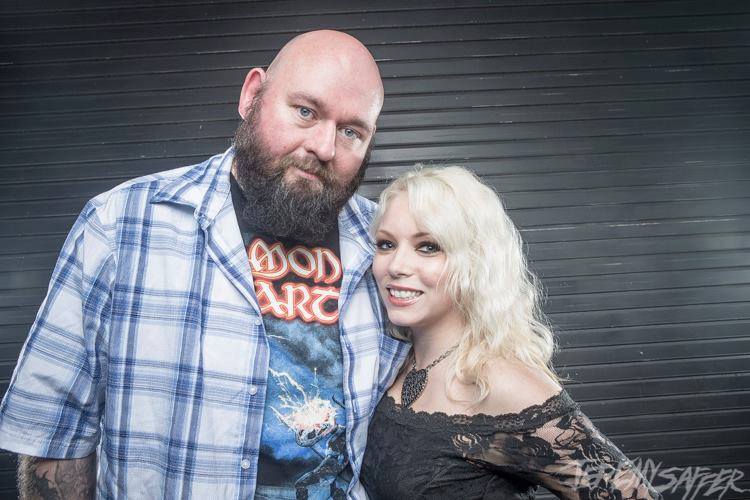 TN: This book is about the paranormal. and haunted locations. Are there any television, or movies of this topic that are your favorites?
SF: I've always been a horror fan of course, but also fan of true events, real cases. Unsolved Mysteries was always one of the top favorite shows of mine. They just drew me in, I couldn't get enough of them! One of the episodes that always stuck with me was called, "The Black Hope Curse". It was about a housing development that built upscale homes, with beautiful lawns outside of Houston, Texas. Families bought up the properties and spent their life savings. Over time, they would start to notice weird things happening in and around their properties… ghostly apparitions, mysterious illnesses, sinkholes in the yard, things they can't explain. At one point, one of the families decides to build a pool in the back yard. As they're digging up the ground they find skeletal remains. Later on they find out the whole housing development was built on an old cemetery called… Black Hope . Check it out if you get a chance, it's crazy. There's actually a TV movie based on the true events that took place, starring Patty Duke, called "Grave Secrets". To this day, it is one of my favorite movies . I talk about that in the book as well.
TN: Why did you pick Salem, Massachusetts as your first "haunted journey" to write about?
SF: We picked Salem because it was one of the first places we went to together that kind of started us on this crazy awesome journey!
TN: Out of all the locations you visited during the writing of this book, which scared you the most?
SF: Hands down the Hawthorne Hotel. There is so much energy in that place, especially the 6th floor. If you read anything about this place, you'll learn the 6th floor and the library in the basement tend to be the most active. Here's a little tid-bit from the book… We were doing a mini investigation in the basement library, just to see if we could get anything to happen. Some time passed and not much was going on. So of course Joe wanted to try to stir things up and provoke whatever was down there. At that exact time he was doing that I was taking pictures of him. Nothing happened that we knew of at the time. Later on I decide to go through my pictures. About the time Joe was provoking, I took a snapshot of a large orb right by his head. Normally I don't freak out about orbs, because they're usually just dust particles, but this one was different. This one wasn't your average orb… it was large and we could see a face in it! Some things you can't explain and that's one of those things where you almost have to be there to believe it. Plus none of the other pictures I took down there had orbs in them.
TN: Did anything frightening happen that you didn't put into the book?
SF: Everything that happened in Salem, we covered in the book. For those of you who haven't read the book yet, we talk about the history of Salem, the Hawthorne Hotel, 2 historic cemeteries, and the Lyceum Restaurant.
TN: There was a lot of history you visited during your trip. What historic fact impressed you the most, and was there anything sad you might've learned as well?
SF: The history of Salem in general, is sad. The whole "witch hysteria" is just horrific. The things they would do to all the innocent people just because they were different, or acted a certain way. It was out of control. I believe a total of 20 people were executed for being"witches". The trials mark a very dark time in this country, as anyone could accuse someone of being a witch. It was interesting visiting the cemetery, Old Burying Point, which has a memorial to those who were put to death after being accused of being a witch. We talk about it in the book, but it really hits home when you read about how these "witches" were put to death. It was a crazy time in our history.
TN: What do you like visiting most: haunted houses, motels, or cemeteries?
SF: it's hard to choose because they're all unique in their own ways. But if I had to choose, it would be houses, or like in our upcoming book, sanitarium/hospitals. Homes and places where people lived at one point or another, more than not, tend to be the most active. It was a time in their life where they felt comfortable, or major events happened, etc. So as a spirit/energy they want to stay there. That's where they had the most memorable experiences. Even as the living, home is where the heart is.
TN: Are there any suggestions to those traveling to Salem you recommend most, and any 'dont's'?
SF: Salem is very touristy, as we all know, but around Halloween it can be crazy. Prices sky rocket for hotels in October . I'm not saying to avoid a visit in October, just be aware. To be honest, October is when you want to visit Salem, duh! It's so beautiful. Everyone puts up Halloween décor, the beautiful autumn leaves are changing, and the nice cool breeze sweeps through the city. I recommend it! Look out for some of the "haunted tours" and things like that. Some are better than others. Do your research before booking a tour. Joe and I did a candle light tour one of the times we went to Salem, and we got lucky, because it was awesome. To be honest, you don't need to do all the touristy things. Just by walking around Salem, visiting the port, looking at all the beautiful buildings, cemeteries, enjoying the food and culture, is fun enough without breaking the bank.
TN: Were there any obstacles you had to overcome while traveling, like bad weather, or car troubles, and so forth?
SF: We get pretty lucky when it comes to traveling. We make sure to pick the right time of the year, and bring what's necessary. Plus when we travel, we usually do it around a film screening, or convention appearance. We'll book the appearance, then see what's near and kind of do a mini vacation around it. It works out great that way.
TN: Who is your favorite author and favorite book?
SF: Don't get me wrong, I love Stephen King, but my favorite author is my man! I know cheesy right? I've been reading Joe's books since we've been together, a little over 8 years. They're funny, sad, crazy, but with heart. His stories are so good, and I'm not just saying that because we're together, but he's an amazing fiction writer, and I would pick his books over any. I highly suggest checking his work out, its good stuff!
TN: What can readers and fans of yours expect in the next book: HAUNTED JOURNEYS: WAVERLY HILLS? When will it be out? And how many book are planned in this series?
SF: The next book we have planned is, "Haunted Journey's: Waverly Hills Sanatorium". Now this is going to be good. Joe and I did an overnight investigation with a couple of our close friends, and it was crazy. We went from midnight to 8am. We basically had the whole sanatorium to ourselves. If you get a chance, do some research on this infamous location. It opened in the early 1900s, when the tuberculosis outbreak happened. Patients were treated and housed there to try to contain the disease. At the time there was no cure and they had to resort to different experimental procedures. They had to build a morgue and an underground tunnel, aka "body chute", because so many people were dying day by day. This place is amazing and I can't wait to share with you all our findings, and beautiful pictures. We definitely plan on revisiting this place within the next few years!
TN: Will you ever write an autobiography?
SF: It's funny you ask that, because I've been thinking about it. Down the road I'd like to write an autobiography. Until then, I'd like to try to get as much under my belt as possible. That way it'll make the autobiography that much better!
BONUS: What is next for Sarah French?
SF: I'm constantly working on something new! You can keep up to date with me via my Facebook fan page: Sarah French, also my website at www.sarahfrenchonline.com
You can check out "Haunted Journeys: Salem" via amazon.com , also I have a link on my website as well. Also check out more of Joe Knetter's work on amazon!
So there you have it, all the new goings on with actress Sarah French, now writer too I might add. Please check out all of her websites, and perhaps you too can enjoy her new book as well…HAUNTED JOURNEYS: SALEM…Thank you Sarah for this most interesting interview!
Posted in Interviews by Tony Northrup on December 10th, 2017 at %I:%M %p.