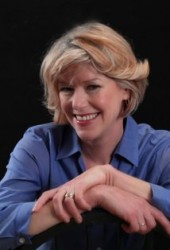 In the 1970′s horror films were at a crossroads. This decade was known for its entity themed films such as, THE OMEN, THE EXORICIST, and THE AMITYVILLE HORROR. Fans were scared out of their minds by what was considered the darkside of horror.
However, in 1975 the genre took a turn, with a little film that was actually considered horror, JAWS. A turning point indeed, as the film industry opened up to a whole new direction and feel to what was considered horror. But as the 1970′s came to a close, there was still that "itch" for something new, something different, something that hadn't been done before. In 1978 that change came, and in a big way, with what is considered to be the first "slasher" film of all-time: John Carpenter's HALLOWEEN. That white-masked serial killer known as "Michael Myers" who preyed on a young babysitter, changed the face of horror forever!
A flood of "slasher" films spawned from that one hit, with everything from PROM NIGHT, GRADUATION DAY, TERROR ON A TRAIN, to THE BURNING. However, there was yet another "slasher" film, one that would take the teenage audience around the world by storm. A small independent film known simply as, FRIDAY the 13th! In 1980 this film didn't expect to make it to the big screen, let alone become a hit.
Filmed in New Jersey by director Sean S. Cunningham, on a shoestring budget, FRIDAY the 13th would go on to become the biggest, and longest running horror film franchise of all-time, beating out the HALLOWEEN, and later, A NIGHTMARE ON ELM ST. franchises. With 12 sequels to date (including a reboot), and a new "Friday" film due out this November 2015, there seems to be no stopping that famous hockey-masked character "Jason", and no one is safe in his woods.
In the late 1970′s, the term "Scream Queen" (that lead actress in horror films who usually is the last one to survive) became popular. Actresses such as Linda Blair, Karen Black, and the ultimate "Scream Queen" Jamie Lee Curtis, helped to coin this phrase. However, in 1980 there was another to grace this list, actress Adrienne King. Adrienne was the soul survivor in the original 1980 film, FRIDAY the 13th, playing camp counselor, "Alice". The character Alice was a sweet, shy, artistic young woman, who took a summer job at Camp Crystal Lake in hopes of helping to refurbish the camp so it could reopen. Unfortunately for her and the others, Camp Crystal Lake had a death curse placed upon it. Many horrifying events took place there prior, and it seemed the curse did not stop there.
By now most of us are familiar with the Friday the 13th series of films over the years, but before Adrienn King screamed that ever famous scream that catapulted her into "scream queen" status, she already had quite an impressive film career.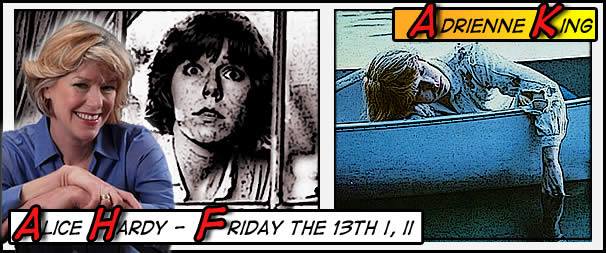 ADRIENNE KING…was born July 21, 1960, in Oyster Bay, Long Island, New York. Her career began at the very young age of 6 months old! She was that cute little baby in an Ivory Soap commercial. In 1965 at about the age of 5, she landed her first role in the film, INHERIT THE WIND, playing "Melinda" for the Hallmark Hall of Fame. While climbing the ladder of success she still continued to do commercial's throughout the 1970′s, which includeed tap dancing with Sammy Davis, Jr. in a 7-Up ad, she was the Burger King girl for their "Have It Your Way" campaign, and also did some soap opera work as well.
Adrienne's passion and appareciation of the performing arts eventually took her in a new direction when she became a member of the Joseph Jefferson Theatre Company, and studied at the London Royal Academy of Dramatic Arts. She also attended college as a Fine Arts major at FIT Fashion Institute of Technology in New York. Adrienne's work was lucrative, and she even took several uncredited roles at times, such as in SATURDAY NIGHT FEVER and HAIR, as a dancer. She did some off-Broadway work as well, until she landed her first and most famous role to date of "Alice", in the 1980′s film, FRIDAY the 13th.
After dealing with call back after call back, she ended up landing the role, claiming that her "scream" was what nailed it for her. Filming began shortly after Labor Day in 1979 in New Jersey, and was brutal she says, with cold nights, long hours, and lots of screaming and running. FRIDAY the 13th was the job of a life time she says, filled with memories she'll never forget. The success of the film afforded Adrienne some of the rewards she deseredly so earned, one of which she had always dreamed of, an apartment overlooking Central Park in New York City.
Adrienne returned for a cameo in 1981′s FRIDAY the 13th PART 2 film, but soon thereafter she decided to embark on yet another life adventure, moving overseas to attend the London Royal Academy of Dramatic Arts, to help further her career. In 1984 she moved back to the States and began a career in voice over work in films, TV, and commercials. In 1986 Adrienne met her now husband of many years, Richard, who at the time was President of International Independent Film Distribution and Production Company, for such films as, DAWN OF THE DEAD, CREEPSHOW, and many others. After a bit of a hiatus, Adrienne once again returned to voice over work in 1994 working on such projects as televisions MELROSE PLACE, and films such as, WHAT'S EATING GILBERT GRAPE, JERRY MAGUIRE, and MAN WITHOUT A FACE to name a few. Not long after Adrienne decided to once again step away from the film indurstry, persuing other avenues, however they always pertained to the arts in one way or the other.
In 2002, it was suggested to Adrienne that her many fans would love to meet and talk with her about her now cult classic film, FRIDAY the 13th. The perfect forum for this are the now very popular Horror Conventions that are held throughout the United States and Europe. Yet another chapter in life unfolds for Adrienne.
She found herself enjoying the Horror Conventions so much she made it her new love along with…wine making! She and her husband moved to southern Oregon and got into the wine making business where she has many labels and titles based on her famous FRIDAY the 13th film and character "Alice". You can find her Crystal Lake Wines at Valley View Winery in Jacksonville, Oregon and at her website: Adrienne King.com. Along with traveling across the country to different conventions, meeting fans, and making wine, she also is an amazing artist and dancer. A sweet woman of many talents, enjoying life, and sharing her love of wine, movies, and art with her fans across the globe.
I was very fortunate to meet and spend extra time with Adrienne at the Crypticon Horror Convention in Minnesota October 2014, and the following is my exclusive interview with her.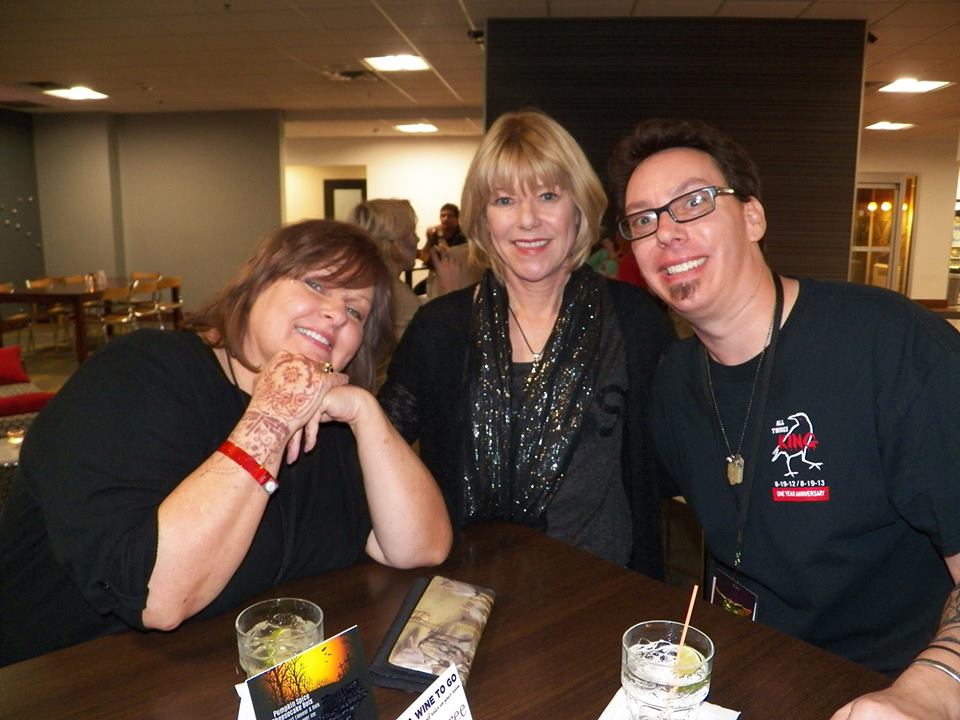 Q. – I understand you had a 27 year hiatus from the film industry, did you pursue other talents during this time?
A.- I did paintings and art and I was still doing voice over work.
Q. – In the film FRIDAY the 13th Part 2, your character "Alice" supposedly dies in the first 10 minutes of the film. However, it is rumored that "Alice" did NOT die. Can you shed some light on this?
A. – As far as I'm concerned, Alice had a nightmare and was dreaming and she is alive and well drinking wine and painting. *laughs
Q. – There are specific "frightening" scenes that you have to be scared out of your wits in the film. What do you do personally to prepare for that?
A. – It's not that hard if you allow yourself to be convinced it's all worth it. Go deep into that dark place most people stay away from. Not to pretend and find ways to get to that deep dark place. Be by myself for one hour and go to that place. Like co-star Betsy Palmer said to me: 'You can't cheat…you have to go all the way.'
Q. – The FRIDAY the 13th films have the most sequels in any horror franchise. How do you feel about being part of this long-running franchise?
A. – SURREAL!!!
Q. – Were there any scenes that were deleted from FRIDAY the 13th or scenes in the script that were cut and if so what were they?
A. – No
Q. – If you had a bigger role in FRIDAY the 13th PART 2, do you think "Alice" would've beat "Jason"?
A. – DEFINITELY! *laughs
Q. – What are some of your fondest memories working on FRIDAY the 13th?
A. – We were all young actors. We had no idea what we were in for. The crew was already there before we arrived and it was very LOW budget. We were college kids having a great time. We filmed in 1979 after Labor Day in New Jersey. It was lovely, peaceful, and TWICE they ran out of money. The director, Sean S. Cunningham kept quiet about it, but made it through.
Q. – What was your personal favorite scene in the film?
A. – The "snake in the cabin" scene. It was all improv and they used a real snake that was someones pet. They killed it by accident. The director, Sean S. Cunningham was the one who actually killed it. But it was all improv!
Q. – Did you know if your character "Alice" would live or die in the film?
A. – I had no idea she would survive before filming. The script was always changing.
Q. – Tell us your thoughts on the actor Walt Gorney "Crazy Ralph", Make-up artist on the film Tom Savini, & co-star Betsy "Mrs. Voorhees" Palmer?
A. – "Crazy Ralph" was testy with kids, no patience, but interesting when talking about acting. Tom Savini is brilliant, a genius, a very happy camper all the time. My co-star Betsy Palmer I worked with for 10 days. I knew she was the killer because of the script. She was wonderful to work with, taught me things they don't teach you in school, and she made me a better actress. Her advice to me: 'You can't cheat, you have to go all the way.'
Q. – What are some of your favorite horror films?
A. – I liked The Exorcist, Carrie, but I swore horror films off for awhile. I do still watch the old classics.
Q. – What are your thoughts on the other 'Friday' films and did you want to make a cameo in the FRIDAY the 13th remake a few years ago?
A. – The 'Friday' films are hysterical…silly things. I watched up to Part 4, pieces of 5,6,7, and some of 9. I was suppose to do a cameo for the "reboot", but the studio never called back.
Q. – Final question, the original FRIDAY the 13th will be celebrating its 35th Anniversary this year. What do you want to say to all the fans?
A. – Hope to see you all back at camp! And keep posted because looks like there may be some FRIDAY 35th Anniversary events coming soon! And then I can REALLY say, "See you back at Camp!" Cheers to ALL my Happy Campers….we've survived it together!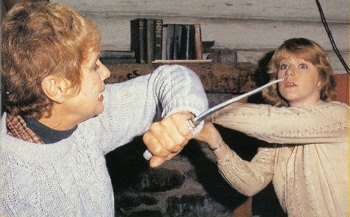 Adrienne King has certainly had quite an amazing life. Whether she's acting, dancing, painting, traveling to conventions, or making her own wine – Adrienne is quite the talent. She has a new film, TALES OF POE, which is set for release later this year, but can be seen at some film fests across the country currently. She continues to make new flavors of her own wine, and original paintings for sale, and of course, loves visiting with fans at horror conventions across the country. Adrienne has a big heart and an even bigger lust for life. I can personally say, visiting and interviewing her at last year's Crypticon Horror Convention in Minnesota has been a highlight for me. She was very sweet, generous, and giving of her time. We laughed, visited for a very long time, and I'm personaly proud to call her my friend. She loves life, that much is clear. In her final quote from our interview: "…No pretending, you can't pretend you have to go all the way!" And that is just one of many reasons she has a great success story.
I want to thank Adrienne for taking the time to do this interview, and for her personal time. It has been my great pleasure, and I wish her happiness and continued success in the future. I also thank the great folks at the Crypticon Horror Convention in MN, for this opportunity as well. For more info on Adrienne's limited edition art, wine, and next public convention appearances, visit her website, Adrienne King.com and at, Valley View Winery.com.
Posted in Interviews by Tony Northrup on January 30th, 2015 at %I:%M %p.