RANK: 8.5/10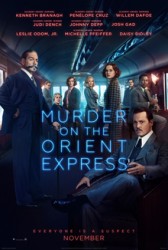 Of course, many of you may already know and love the great works of author, Agatha Christie. She has dazzled us with many fine murder mysteries, some of which have been made into films. In 1974, an all star cast, including actor Albert Finney, as detective Hercule Poirot, and Lauren Bacall as Mrs. Hubbard, just to mention two, brought us the last rendition of Christie's gripping novel.
Now, in 2017, we once again ride along on that most elegant of trains, through the picturesque mountainsides, on a steam driven locomotive, racing toward…murder!
Our story begins in Istanbul, with the worlds greatest detective, Hercule Poirot (Kenneth Branagh), needing a bit of rest. He finds himself on, of course, The Orient Express. As the train leaves the station, the passengers become settled in their respective quarters. The dining and lounge cars are filled with such diverse personalities. As the journey continues, Hercule Poirot is privileged to meet nearly all those he is traveling with, and takes notice of each of those unique and quirky personality. Along the way the train encounters inclement weather, and suddenly an avalanche is upon them, derailing the engine, and the story unfolds.
Among the chaos of the avalanche, a murder has been committed, and Poirot finds himself, once again, in the center of it all. To find out who is murdered, who the suspects are, and why, I urge you to take a moment from your busy schedule to visit your local theater, and give this, "who done it", a watch. You won't be disappointed if you enjoy a good murder mystery, and what better place than on a train, and not just any train or murder, but …MURDER ON THE ORIENT EXPRESS!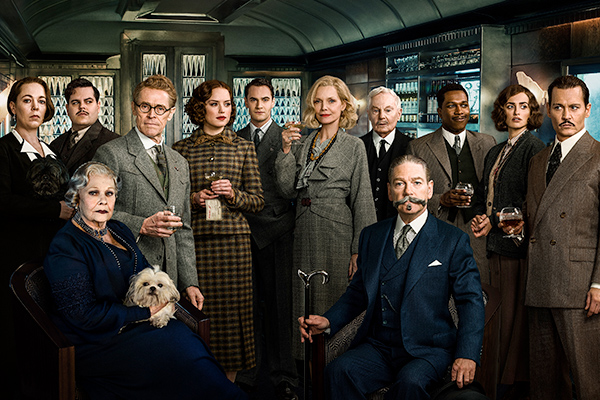 I went to see this film last Saturday. The house was packed, and we all sat awaiting what we knew would be a great treat in the way of classic Agatha Christie. What I thought, and what I got, were two different things. First off I have always enjoyed Kenneth Branagh's films, he has directed several, but this time it was a treat to see him in front of the camera as well, and as the lead, Hercule Poirot, he was befitting of the role. He nailed this sleuths quirky idiosyncrasies to a tee, and the mustache, second to none! He was complimented equally by a stellar cast, which included the likes of Johnny Depp, Michelle Pfeiffer, Josh Gad, Daisy Ridley, Judi Dench, Willem Dafoe, Penelope Cruz, Leslie Odom Jr., Derek Jacobi, and many more. Each were perfect for their particular character and role. Murder never seemed so appealing, and each suspect kept you wondering, was it him, or was it her?
I liked each twist and turn along the way. As the story unfolds, you can't help but wish you too were on that beautiful old train, winding itself through the beautiful scenery, set against the snow covered mountains. This film was breathtakingly shot. I was completely taken off guard by the ending, and to elaborate more would ruin it. I will stop here, and just say this, if you are a true lover of murder and mystery…I hope you will take someone you know will like this as much as you will. This film has only been out a week now, so find a theater that you enjoy, take a couple hours out of your busy hustle n bustle, and jump upon…The Orient Express, you won't regret the ride!
RANK: 8.5/10
Regista/Director: Kenneth Branagh
Cast: Kenneth Branagh, Penélope Cruz, Willem Dafoe, Judi Dench
Usa 2017
Tags: Judi Dench, Kenneth Branagh, MURDER ON THE ORIENT EXPRESS, MURDER ON THE ORIENT EXPRESS review, Penélope Cruz, Willem Dafoe