RANK: 9/10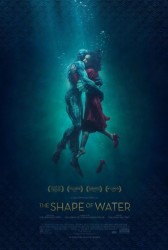 Which film has gotten me this excited? THE SHAPE OF WATER, directed by Guillermo del Toro, who is without a doubt, a self proclaimed fanboy, and perhaps the poster child for fanboys everywhere. Del Toro is famed for bringing us great fantasy stories. HELLBOY 1 & 2, PAN'S LABYRINTH, and PACIFIC RIM, are just a few that bring us into his world, and his slant on addressing every day life situations.
THE SHAPE OF WATER touches upon nearly every human emotion there is. Yes, it is a fantasy, but also a romance, with a nod to the old style Hollywood films of the 1940′s, a story of intrigue and suspense, and one could say they detect a bit of flair from the old 1950′s genre of creature features. THE SHAPE OF WATER is about a single mute woman, Elisa (Sally Hawkins), who lives alone in her apartment, above an old movie theater, circa 1962, Baltimore. Her best friends are her neighbor, Giles (Richard Jenkins), who is a struggling advertisement artist, and her co-worker, Zelda (Octavia Spencer), who works along side Elisa, as a janitor at a secret government lab. Elisa's life is very plain, and her routine, mundane, until the day she meets someone new at work..or should I says…something!
An amphibian creature (Doug Jones), is secretly brought from the Amazon Jungle, where he was first discovered, to this makeshift facility where he is poked and prodded beyond belief, in hopes that he will become a part of the great space race program, which took place between the United States and Russia, in the early 1960's. Elisa befriends the creature, who has been intimidated through torture, and is now withdrawn. Through music, food, and sign language, since she is mute, he is learning to trust again. They have become a very unlikely pair. However, time is running out for the creature, and it's up to the project leader, Richard Striclkand (Michael Shannon), a relentless and heartless man, who is cruel, and only wants results, to make the final decision on the fate of the Amphibian man's life. When Elisa finds out the fate of her new aquatic friend, she must find a way to rescue him before it is too late.
The story that unfolds between these two characters is one of the most beautiful and intricate love stories I have seen. You will be mesmerized by the captivating and emotional scenes. The story may not be conventional, but like I said, this IS a fantasy, and one that is of adult nature, so definitely not for your under teen aged children.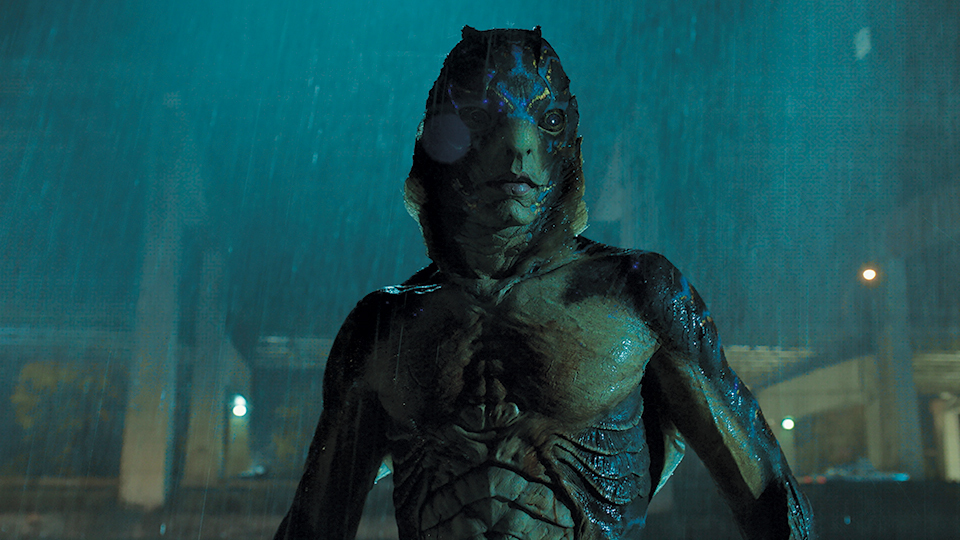 I absolutely loved this! I can't remember the last time I saw a film that touched the gamut of my emotions as this did. It has everything a fan looks for in a good film, romance, humor, the look and feel of films of yesteryear, the creature features we grew up on, and a solid story that reels you in, and characters that captivate your heart. There is truly magic in this film, a beautiful soundtrack, and the F/X were top drawer! The entire cast is amazing, but it's the outstanding performance of the Aquatic Man, played by Doug Jones, that truly brings this film to life. Doug is a fantastic actor, he has done almost every creature in film, and many from television, such as Buffy the Vampire Slayer, to those on the big screen, such as the Hellboy films, and now this film.
I personally enjoyed that he was the main character focus of this film, a just due for actor Doug Jones. My wife and I had the extreme pleasure of meeting Doug a couple years ago, and spending time with him over several days at the Crypticon Horror Convention in MN. During my interview with him, I observed one of the kindest, gentlest, and humble actors I've ever met (and I've met many over the years). I included two pictures from that meeting in this article. THE SHAPE OF WATER … is still in theaters, but will be released on DVD March 13th. I highly recommend you see it. Please note, there are some scenes that may be considered too mature for very young viewers, so perhaps enjoy this film as part of a date night. As I mentioned before, this film is up for 13 Oscars, which is astounding as far as the film industry goes. This is a beautifully done film, from start to finish, and tugs on your heartstrings as well. Don't miss out on this bit of cinematic perfection! Definitely see… THE SHAPE OF WATER
RANK: 9/10
Regista/Director: Guillermo del Toro
Cast: Sally Hawkins, Michael Shannon (II), Richard Jenkins, Doug Jones, Michael Stuhlbarg
Usa 2017
Tags: Doug Jones, Michael Shannon (II), Michael Stuhlbarg, Richard Jenkins, Sally Hawkins, The shape of water review
Posted in Fantasy and Top movie by Tony Northrup on March 6th, 2018 at %I:%M %p.