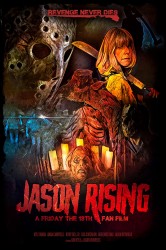 Generally, when you ask horror fans which are some of their favorite horror franchise films, you'll get at least one of three main answers: A NIGHTMARE ON ELM STREET, HALLOWEEN, and FRIDAY THE 13th. To ask which is the most iconic of the three, well, you'll have one major debate on your hands.
However, there will be a majority of fans who will always say, FRIDAY THE 13th. This franchise has been with us for over 40 years. With 12 movies to date, a television series, comic books, and thousands of different types of merchandise (not to mention horror conventions), fans can enjoy the world of FRIDAY THE 13th in just about every way possible.
This is all wonderful, but sadly, for a very long time, fans hadn't seen a new FRIDAY THE 13th release. There was, of course, the reboot in 2009, and before that, FREDDY vs JASON in 2003. However, with the long, drawn out court case between director, Sean Cunningham, and writer, Victor Miller, fans felt their beloved Jason Voorhees was truly dead and buried….or was he? Enter: Fan Films!
Over the last 20 years, die hard fans of all film genres took it upon themselves to stop waiting for big film companies to make a sequel to their favorite movies. Several decided to grab a camera, become the director themselves, and make their own films. Many of these films are available via internet streaming channels, such as Youtube, and Prime, and several of these films have been shown at film festivals, as well as in theaters. One of the most successful, and most popular fan films to recently be released is from director, James Sweet, and his film…JASON RISING (2021).
James Sweet is an actor, writer, producer, and director who has worked on projects such as, Z NATION, THE LIBRARIANS, and JASON RISING. James took on a huge endeavor with his decision to tap into one of the biggest film franchises of all-time, and he 'sweetly' pulled it off. I had the pleasure of viewing this film, and interviewing not only the director, James Sweet, but also FRIDAY THE 13th icon, actress Adrienne King (who appears in this film as 'Alice'). Here are my thoughts on the film JASON RISING, and my exclusive interviews with director, James Sweet, and actress, Adrienne King!
JASON RISING is what's termed a 'fan film'. It takes place at Crystal Lake, as does the original first film in the FRIDAY THE 13th franchise . The film begins with the local sheriff, and his deputies visiting Jason's grave to make sure Jason Voorhees is dead…for all time. However, Jason, true to form, comes back, and is ready for more revenge. Fast forward several years, three female fugitives escape from a nearby prison, and it just so happens it's very close to Crystal Lake. These fugitives thought prison was bad, wait 'til they run into Jason! The new sheriff, his deputies, and a few trackers try to hunt down the three fugitives. However, they are now on Jason's turf, and it all becomes a game of 'cat and mouse', and survival. But there's something else even more evil than Jason on the loose…and this is a twist. I'd like to say who, but I'd rather you view this film to find out for yourselves. It is going to take someone who knows Jason better than anyone to bring an end to all the madness. That someone, the first "final girl' herself (Adrienne King), Alice!
I really enjoyed JASON RISING! It had that feeling of the first two films in the franchise. That gritty, early 80′s feel to it. I thought the actors were very impressive, nailing it, and the 'kills' are exactly what true 'Friday' fans would want in a Jason film. That, in my opinion, is what keeps us coming back for more. Jason (Dan Kyle), himself is creepy, scary, and evil as ever! His appearance has a Jason Part 3, and 6 look about him. There were some scenes in this film that really brought me back to the original films, and how I felt seeing them for the first time.
I absolutely loved that director, James Sweet, brought back the original 'final girl' Alice Hardy (Adrienne King). Adrienne steps right back into Alice's character like she's never skipped a beat. Her appearance is exclusive, but it's a real treat for fans of the original franchise. There is also a cameo from another 'final girl' but I'll leave that surprise for the fans to discover on their own. There are many FRIDAY THE 13th 'easter eggs', nods, and cameos that feed the die hard viewers fandom, so be sure to look for them.
There are many fan films you can view, no matter what genre, but I believe this film is truly 'best in class', and has become very successful. This is a film that not only should be on your shelf, next to your other FRIDAY THE 13th films, but it's a stand alone, independent film outside of the franchise that is truly worthy.
I highly recommend…JASON RISING.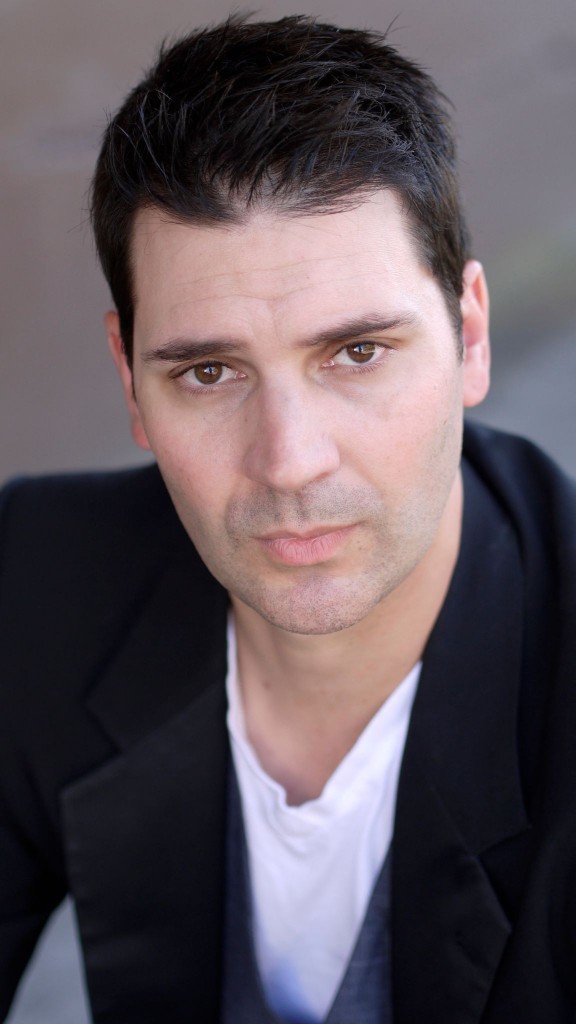 Here's my exclusive interview with director James Sweet!
Anthony Northrup – When were you first introduced to the FRIDAY THE 13th franchise (age/where were you living at the time)?
James Sweet – I was around 9 or 10 years old, when I first laid eyes on the title, FRIDAY THE 13TH… Which was on a laserdisc, sitting on a shelf full of movies. I still remember seeing that iconic cover, picking it up, looking at that forbidden gem, and reading how it was banned in several countries. Of course, I was too young to view it, so I really didn't understand what it was about til later. I remember Outdoor school in the 6th grade, being in the cabins at night, and the kids talking about Jason. They were all freaking out about Jason. Some of the kids couldn't sleep. I was intrigued at that point about who Jason was. I finally watched the first film around the 7th grade, and continued watching the franchise. Yeah, it scared the shit out of me, but I loved it! I remember watching part 4 many times over, after school. My first poster on my wall from the franchise was Part 6, Jason Lives. I found it at a video rental place down the street from where I lived.
AN – Do you have a favorite FRIDAY THE 13th moment in your life, or one of the movies in particular you like more than the other? How about a favorite Jason?
JS – I have so many moments in my life that have been shaped by Friday the 13th, it's hard to pick just one, but it was always my favorite batch of horror films to watch, hands down. I have always been a part 4 guy, but overall my favorites are Parts 1-4, then 6 and 7. Definitely, Ted White's version of Jason, just really was terrifying to me. Brooker was amazing as well, but if I had to choose one, it would be Ted White.
AN – Let's talk about your film, JASON RISING. Was this your first fan film of any kind, and how did JASON RISING come about?
JS – As an actor, I played a Sandtrooper in a Star Wars Fan Film, but as far as making one, Jason Rising was my first. Not to mention the first time I directed anything. I started off as an actor but loved all aspects of filmmaking. I basically wasn't satisfied with the acting game. I wanted to play the roles in film and television that I loved, and grew up on. So I finally made the decision to choose my own destiny by making films, rather than waiting on those opportunities. I had an amazing acting coach, Robert Blanche, who later became one of my greatest friends and inspirations in life. He was well known in the Portland acting community, and was a huge reason why I gained the confidence to make films. I finally had the courage to make a short film called, Blood & Sugar which I wrote with Robert, and he directed. Once that was finished, I was even more hungry to keep creating more. I decided on doing a fan film in 2017. I knew that I wanted Robert to write and direct the film. During that time we wrote several story ideas for Jason Rising, I had the title in my head right away. During that time another Friday, the 13th Fan Film came out when I made the decision to make the film called, Never Hike Alone, by Vincente DiSanti. I met my great friend, and right hand man Karl Whinnery (Cinematographer and Editor), during the conception of Blood & Sugar. He made a small Friday the 13th-themed short with some of his friends, which he sent to me. I watched that with a boost of confidence, that yes… WE CAN DO THIS! Once we completed our first 25-page draft of the first story, Robert needed to step away from the project as director, we continued to write until the call came in for him. He needed a lung transplant. The lungs didn't take, which kept him in ICU for over 8 months. I didn't think I'd ever have a chance to talk to him again. He finally made it out of the hospital, and I was happy that I made the decision to keep moving forward with the film. During that time we had been working with Vincente on crowdfunding, as well as writing together, we always kept Robert in the loop of things, hoping he would return fully back to health, and I would have my friend back. He, unfortunately, passed away in January of 2020. My heart was broken, I had just lost my father to cancer in October of 2019. With Karl, Vin, and myself, we continued the creation of Jason Rising, as a team, but I always had Robert in my heart.
AN – What were the auditions like?
JS – When we first started the concept of the story, that is now the final version of the story, I knew several of the folks I wanted already that were in Blood & Sugar. First and foremost, Dan Kyle, to play Jason, and Kyle Vahan, as our sheriff. Jerry was on the list of badass cops, and Jason Reynolds came into the mix also. Auditions came a bit after we knew the funding of the film would happen through Indiegogo. I will admit, I had more confidence once we raised over 20k for the project. I sent out casting notices through my agent Jason, at Arthouse Talent, for our fugitives. They sent in video submissions for us to pick through.
That was a huge learning experience just as a filmmaker alone, and we found the right cast. Anna Campbell, was one that I really wanted to cast as our deputy, not entirely sure it would work out since she was in Los Angeles at the time, but as you see the rest is history. There is a horror icon, and original FRIDAY THE 13th actress in the film, the first "final girl", Adrienne King, who played 'Alice' in Parts 1 & 2.
AN – That's a pretty wild thing, to have Adrienne King in a Friday film after so many years. How did you convince her to get on board for this project? What was her first reaction? As well as Amy Steel's reaction at being asked to make a cameo?
JS – In one of the first drafts of the script, when Robert was involved, we had wanted Adrienne, weren't sure if it was even possible, but Robert never had a doubt. We sent it off to her agent at the time, and it wasn't the right story for her. I was definitely disappointed, but knew it was a long shot anyway. So I honestly sorta let go of any possibility of that even happening. I was struggling with the ending. I felt Robert nudging me from beyond. There was a scene that he had written that I really loved when he presented it to me. It had Alice sitting in her kitchen, monitoring a police scanner, hearing the chatter of something going down at the camp, she's drinking wine, and then grabs her gear and heads out. I loved that scene, and knew that would be the answer. I reached out to her after I had met her in person in Portland, and told her about the idea. She was very kind, and responsive to listening. I always felt this would be something that we could figure out together, and make it possible for the return of Alice. Adrienne is an amazing human, so full of positive energy, she made it an experience that will never be forgotten. When Adrienne and I spoke about the project, the idea came about with her friend, Amy Steel (Friday the 13, Part 2), about doing some sort of phone message, bringing Ginny Field back into the light of Friday the 13th, as her trauma therapist. It made perfect sense in our eyes. As a fan of the franchise, having the two most iconic final girls as a part of my project…truly a fan boy's dream.
AN – There are a lot of FRIDAY THE 13th "easter eggs" in the film. How fun was it to pick what went in your film that die hard fans will pick up on?
JS – It wasn't difficult at all, actually, that was the easy part. Knowing the films as I did, I just wanted to add those elements that felt "Friday" to me. Those things I remember, such as "The Great Train Robbery" poster from part 3, that we put inside the cabin. Several things like that are very subtle. There are also things that are just for fan service, like using the sack mask in the story to get that imagery once again.
AN – I felt JASON RISING had a very interesting "early installments" appearance to it. Like Parts 1, and 2 of the Friday films, crossed with Sam Raimi's THE EVIL DEAD film from the early 80′s. Did you want the viewers to feel like they were back to that original early 80′s "Crystal Lake" look that we loved so much?
JS – Yes, but in a present-day form. Having the love of the Evil Dead franchise as a kid, made me always think of that cabin in the woods, with the evil fog lurking as a great setting for Friday the 13th. Karl Whinnery did the color correction on the film, along with Matt Wilcott. They really made the film look like that 1980s vibe. I'm super proud of their work.
AN – Do you have a favorite kill scene in your film?
JS – Each kill resonates with me as a triumph as a filmmaker, and as an uneducated effects artist. With a limited budget, I had to use my limited skills to create most of the kills. One of my favorite of the bunch is when Serena (Lisa Sorenson), gets the machete in the back of the head through the mouth. Simple smoke and mirror edit, but really delivered the final chapter Jason-type kill.
AN – Which FRIDAY THE 13th franchise actor/character would you have liked to have had in the film if budget/time allowed?
JS – I would've loved to have Amy Steel actually on-screen as Ginny, but I'm not sure she'll ever go back to acting on camera. I mean, can you imagine Alice, and Ginny taking on Jason?!
AN – How long did it take to make the film, and did any challenges come along? If so, what were they?
JS – The idea started in the fall of 2017, and we began shooting in 2018. A film project that takes over 3 years is nothing more than a labor of love. You are basically married to the story, and project till you let the world see it. As far as challenges, that was the entire process of crowdfunding for the first time, which is like a second full-time job at times. During the filming, as said before, when I lost Robert it was hard to even think of continuing at first, but knew he would want it that way. There was this little event called the COVID 19 pandemic that shut down the world, Northwest wildfires as well as ice storms, that tore down the entire Camp Crystal Lake set. It was an uphill climb the entire way, but we prevailed.
AN – Were there any bloopers/scary moments on-set?
JS – There are always bloopers with the group involved, we had fun even though it was stressful at times. Well, I did get the U-Haul truck stuck in the mud, but the scariest part was wondering if we would ever get the film to the finish line.
AN – What are your thoughts about not seeing a new franchised FRIDAY THE 13th film in the movie theaters, due to on-going lawsuit. Do you feel now that there are Fan Films, such as JASON RISING, that fans will feel good about seeing Jason live on through these independent films?
JS – As a fan, of course, it's very unfortunate that we have not seen a new film, or series yet, but I always feel things happen for a reason. Once the issues work themselves out one day (with the rights holders), the fans can have their voices heard. Through the making of the fan films, we at least have kept it alive and see how much the fans want more. Who knows, maybe filmmakers like myself, and Vincente DiSanti will have a voice in the writer's room once that time comes.
AN – As a director, which FRIDAY THE 13th director(s) have inspired you most?
JS – Well as far as directors of Friday the 13th go, each film has different directors, all have their take on it. That is what I feel makes it work with the fan films like Jason Rising, having your own voice in the story, and the lore. The great Tommy McLoughlin really brought a unique thing to his Friday, by going away from the traditional formula that Paramount had of showing nudity every 10 minutes, not to mention, bringing back Jason was the best thing that NEEDED to be done.
AN – What has been your proudest moment since the film's release, and what has been the fans reactions to JASON RISING?
JS – Since the release of Jason Rising, I'd say overall the reception of it has been very positive. We have done very well at the film festivals, winning best picture. Not everyone loves what you do, because everyone has their own idea of what Friday the 13th is to them, but I feel we brought a very fun, unique story that feels like a series pilot for much more to be told.
AN – Lastly, Will we see a JASON RISING 2, and what is next for James Sweet?
JS – With that being said, will there be a Jason Rising 2? We shall see…I am currently writing with the great Tommy McLoughlin on a prequel film/series idea of Pamela Voorhees, and young Jason. Without saying too much, it's a very dark tale of Pamela raising her son.
There you have it, a look at the new Fan Film JASON RISING, an Independent Friday the 13th film…and a good one at that. Sometimes breaking the mold of what was, is definitely a great start to… what can be. I, for one, enjoyed this film, and hope those of you who will view it will enjoy it as well… JASON RISING is just the beginning for James Sweet, and we wish him all the best. Hope you enjoyed this!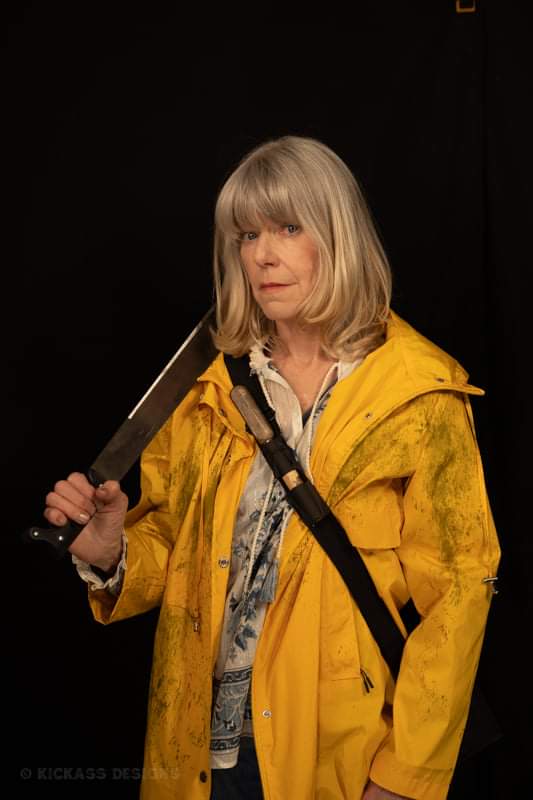 Now, here is my exclusive interview with that sweet, and charming "final girl", actress, Adrienne King….
Anthony Northrup – How did you first hear about, and eventually get involved with James Sweet's film… JASON RISING?
Adrienne King – I believe I first met James Sweet at the Seattle Crypticon, maybe 5 or 6 years ago…He was amazingly talented, as well as passionate about the Friday the 13th films. We discussed the movie, the legendary Betsy Palmer, amazing Tom Savini, and how Alice might have gone on in Friday the 13th, instead of her quick "demise" in Part 2. You know, how so many of our Campers feel the same way. So we kept in touch. James got very busy developing a storyline, and began putting the film project together with his mentor (Robert Blanche), and some incredibly talented filmmakers in the Pacific Northwest. James sent me this cool script with a couple of sweet twists, and a bloody brilliant way to weave Alice back into the Friday the 13th series. This eventually became this exciting fan film JASON RISING and gave me a perfect book-end for Alice.
AN – What was your first day on-set like?
AK – It was wonderful. A beautiful 5 hour drive, north through Wine Country from my home in southern Oregon, with my dear friend/make-up/hair stylist, Sandra Ianaccio. We weren't due on the set until Friday, but that Thursday evening, first week of last May 2021, after checking into our hotel we decided to drive to the beautiful Oregon location where the cast and crew were already filming. I couldn't wait to see James again, and meet everyone. You have to realize, this film started pre-pandemic. Somehow, everyone kept the big secret that I was signed to Jason Rising through our lockdowns. They all had history together, had become a family, and here I was, just popping in for the last few days of filming! Surprise! The cast and crew welcomed me with such appreciation and gratitude that I felt immediately at home. First time I met Vinnie and Carl. James, Vinnie,and Carl all made this an incredibly wonderful experience. Fun, exciting, exhausting, fulfilling, with all the passion of an independent film that would rival Hollywood's output.
AN – Share with us what it is like being directed by James Sweet?
AK – Giving, and open to suggestions, but stayed very true to his vision.
AN – What did you enjoy most about working with your co-stars?
AK – Very professional, talented, and dedicated actors. Anna Campbell, Vinnie Di Santi… and JASON!!! Especially comes to mind.
AN – For you, personally, what was it like bringing back the FRIDAY THE 13th character of 'Alice'? Did you revisit the first two FRIDAY THE 13th films, or did you slip right back into character after 40 years?
AK – Fabulous. I missed Alice. It was great for her to prove she was still alive, and could still kick some serious butt after 40 years… living with post traumatic stress but surviving quietly, with dignity…in her own space, surrounded by her art… and her wine. I loved being able to bring Alice back in a way that made absolute sense to my character, and where we left off… last time we saw Alice. As you know I've always believed that Part 2 , was a Post Traumatic Stress Dream within a horrible nightmare. Jason Rising explains that Alice went into hiding after Part One. I loved all the "easter eggs" in Jason Rising.
AN – Were there any moments in the film, or during filming that scared you?
AK – When I stabbed Jason (actor's name please…Dan Kyle, he was fabulous, I loved working with this guy… so talented…so dedicated. Was an excellent Jason in my opinion…casting was top notch!!). It was so intense, and when I screamed "You should've stayed at the bottom of the Lake", I really thought I had plunged the ice-pick into his shoulder. He was so cool about it, but I was so scared I had drawn blood.
AN – What have the fans' reactions been like at screenings, and film fests for JASON RISING?
AK – SO HAPPY!!! The fans are going wild for this fan film. It has a following now, where I have watched it several times, and they are thrilled that Alice is back, and Ginny was a surprise! My Campers are very happy! And Jason Rising has inspired me to create a new label for Crystal Lake Wines: amazing, Jason Rising Red… Just waiting on this particularly beautiful blend of reds to be ready for bottling. Soon!
AN – Lastly, would you return for a Part 2, JASON RISING, and are there any FRIDAY THE 13th actors/characters from the franchise you'd like to see in the sequel?
AK – Always!! I think Ginny needs to drive up soon! SHOW ME the SCRIPT!!! CHEERS!
This was such a 'fan' tastic treat to be able to see, review, and interview both these great talents, director, James Sweet, and the ultimate, and adorable original 'Final Girl', actress, Adrienne King. I hope all of you have enjoyed a little deeper look into the making of JASON RISING! You can view this film at Youtube or JasonRising13.com
Posted in Uncategorized by Tony Northrup on May 8th, 2022 at %I:%M %p.