RANK: 8/10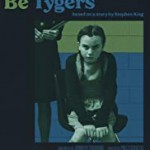 HERE THERE BE TYGERS is a very short story written by King while he was in high school. It was first published in 1968, in Ubris magazine, and later republished in his short stories collection SKELETON CREW, in 1985.
The story is about a little boy in elementary school who really has to go to the bathroom. Having a very strict and cruel teacher, the little boy barely makes it to the bathroom. Once there, he is soon checked on by one of the bullies from the class, as well as the teacher, who are both greeted by a huge tiger! Is the tiger real, or just imagination? With a typical Stephen King twist, this is yet another tale of revenge against bullies who prey on the innocent.
In Jennifer Trudrung's version of this tale, the genders of the lead character Charlie, and the teacher, Mr. Bird, were both changed to female characters. Jennifer herself plays the very strict Ms. Bird, and does a fine job. Scary in fact. The film had a decent budget, thus lending to a movie theater feel and quality. With exception of the teacher, the rest of the cast are children, including Charlie, and they are very professional.
I enjoyed the special effects twist of the tiger itself, and the ending had it's own unique and very eerie twist as well. This is one of the Dollar Babies that is sure to please and entertain those who love to leave a bit to the imagination.
RANK: 8/10
Regista/Director: Jennifer Trudrung
Usa 2019
Tags: HERE THERE BE TYGERS, Jennifer Trudrung
Posted in Uncategorized by Tony Northrup on September 29th, 2019 at %I:%M %p.