RANK: 8/10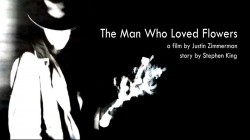 The man who loved flowers was written by Stephen King and originally first published in Gallery magazine in 1977. It was later added to the short story collection book, Night shift in 1978. The story is about a young man walking down the street, various daily routines of people around doing their jobs or business just like any other day.
A radio can be heard in one of the stores with breaking news of a dead woman's body being found. The young man stops in a flower shop to buy some flowers for that special someone in his life. He clearly looks completely in love based on his facial expression. When he later sees a woman in an alley, he thinks she is her beloved "Norma" and tries to hand her flowers. However, she is not Norma and what comes next can only be told in typical Stephen King fashion. Justin's version of this story was spot-on. He kept his vision close to the original story and added his own personal flare to the mix. With impressive camera angle's, cinematography, and locations that fit perfectly, Justin's version of 'Flowers' is entertaining and leaves you hanging for more … until the credits.
Creepy images and questions are answered during the closing credits and I found this revealing surprise nicely done compared to revealing them during the film itself. Very unique in his storytelling. I found this to be one the more entertaining and well-done "Dollar Baby" films I've seen so far. I recommend Justin Zimmerman's The man who loved flowers.
RANK: 8/10
Regista/Director: Justin Zimmerman
Cast: Doug Snyder, Kirsten Foe and Dennis Fitzpatrick
Usa 2015
Posted in Horror by Tony Northrup on March 28th, 2015 at %I:%M %p.