RANK: 8/10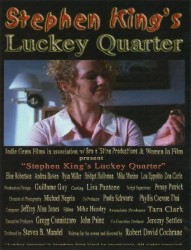 This short story was originally published in the June 30/July 2 1995 issue of Usa weekend. It was later published in 1997 in the limited edition Stephen King book, Six Stories. In 2002, it was published along with many other short stories in the collection, Everything's eventual.
The story of Luckey quarter is a simple one; a single mom of two/hotel maid cleans one of the rooms like she does everyday and when she looks in the tip envelope she finds a single quarter. Of course, first reaction is disappointment, but when she goes to the casino and begins playing she wins a small fortune. As her luck grows, so do the bets and the winnings. Suddenly, she wakes up from her fantasy and thinks the quarter is just that … a coin and not lucky, so she gives it to her son. He puts it in the lobby slot machine and it turns out the quarter is lucky after all.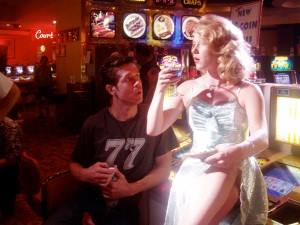 Robert's version of this "Dollar Baby" was very well done. Shot on location in the gambling capital of the world, he captures the story perfectly. The actress who plays the mother did a very fine job and the story was simple, but pleasantly paced. We all wish for that luckey coin and this was a nice "fantasy" story from King adapted very well.
RANK: 8/10
Regista/Director: Robert Cochrane
Cast: Tina Adams, Andrea Bowen,Don Circle, Louis Eppolito, Ernell Manabat
Usa 2005
Posted in Horror by Tony Northrup on June 14th, 2014 at %I:%M %p.