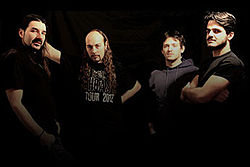 The italian thrashers IRREVERENCE announce that on September 2012 two members have left the band, and signal significant line-up alternations. RICCARDO PAIORO and DAVIDE FIRINU, founders and former members of the thrash combo, have declared about this.
"We wish all the best to LUCA COLOMBO that, after two studio-albums and 8 years of militancy, sweat and toil, has left the band due to significant changes in his lifestyle and goals, and to GIGI CORINTO that has left cause of some personal reasons and musical commitments with the other bands he plays with. LUCA and GIGI, like everyone of those whom has been part of our Family, will ever remain integral parts of the project and will have our esteem and respect for what they gave to us and to our music during their respective stays. Looking forward, we're happy and satisfied to announce that after some months of auditions and many musicians scrutinized, we found in STEFANO TRULLA on bass guitar and EROS MELIS on lead guitar the perfect members to complete the line-up"
STEFANO TRULLA starts his carreer with FLIGHTSOLITUDE, italian progressive rock band. He records a demo-tape and hold many shows with them . Due to some internal divergences the band split-up. Stefano remains one year without a band to play with, and uses this lapse of time studying bass with different teachers till he joins POLARBEERS. With the hard rock/stoner band records 2 demo and plays a lot of live shows. Due to musical inconsistencies with the other guys Stefano left POLARBEERS and starts to play thrash metal again, but remains one year without a band again. During this period he keeps studying on his instrument, 'till October 2012 time when he joins IRREVERENCE.
These are the firsts words following to his officialization as new bass player: "I've waited for this! SOME FUCKIN' THRASH, what i want to do! Can't wait to start composing new material for the new record and play live!"
EROS MELIS it's a well-known name for the italic underground movement lovers. After years of militancy with bands of the sardinian heavy metal panorama, in 2004 achieve HOLY MARTYR. With them he records one EP and three full-lenght album, and treads italians and european stages with positive feedbacks. At the end of November 2012, following to a forced stop of the activity with HOLY MARTYR, Eros left the band. He joins IRREVERENCE's new guitar player auditions and smites the competition. On December 2012 EROS MELIS officially joins IRREVERENCE as new guitar player.
To follow the firsts words after his confirmation as new guitar player: "I'm honoured to become a part of the IRREVERENCE family. We are preparing ourselves to devastate your ears again!!"
Band website, as official web voice of the band, has lived significant changes too. In addition to a complete graphic restyle, the web space has been implemented with new contents and material coming from the band past. SHOP, MEDIA CONTACTS and DOWNLOADS sections has been renovated and updated. Now it's possibile to vision and purchase uncommon stuff directly from the band. A restyle that wish to approach again band fans to the only true "official voice" of the italian combo.
A short video teaser is available here.
The band has already started again with the composition of the new-studio-album, temporarily interrupted. Nowadays four songs are already completed and ready. After the consensual break-up of the record deal with the austrian label NOISEHEAD RECORDS, the combo announces that has already reached a preliminary deal with an important italian label about the release of the new studio-work, but there are no more details for now.
On JANUARY 26th 2013 there will be the first occasione to see live the new line-up at COMUNITA' GIOVANILE in Busto Arsizio (VARESE), to follow all the details:
JANUARY 26th 2013, 9:30PM
IRREVERENCE + T.b.a.
Comunità Giovanile, Busto Arsizio (VARESE)
Posted in News by Giulio De Gaetano on January 2nd, 2013 at %I:%M %p.