RANK: 8.5/10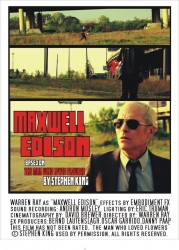 This story based on Stephen King's short story is from the book, Night shift. It is about a man who walks the streets on a sunny day and buys flowers for the one he truly loves. However, every woman he comes across isn't her and it's not the flowers he delivers but a silver hammer and brutally kills each one he encounters.
I have seen other versions of this film, but this one was quite enjoyable! Warren stars in the film playing the young lover and makes the performance creepy and believable. The soundtrack is from 60′s/70′s influenced and had a very Quentin Tarantino feel to it. I found it well directed, stylishly filmed, and the only complaint is that it was too short!
I would have loved to watch a full-length film version of this, that is how entertaining it was. Warren Ray has talent and an eye for style while trying to entertain. I was quite impressed with this version of King's story.
RANK: 8.5/10
Regista/Director: Warren Ray
Cast: Warren Ray, Julie Streble, James Tackett, Demi Demaree
Usa 2012
Tags: Demi Demaree, James Tackett, Julie Streble, MAXWELL EDISON, nightshift, stephen king adaptation, Warren Ray
Posted in Pulp/Noir by Tony Northrup on September 29th, 2015 at %I:%M %p.