RANK: 8/10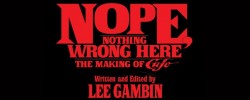 Author Lee Gambin is not only a talented and gifted writer, he knows plenty about films, their history, and behind the scenes trivia , making his books packed full of enough knowledge to satisfy any film goer and film historian. I recently had the pleasure of interviewing this Australian writer, and the honor of reviewing his book, HELL HATH NO FURY: The Making of CHRISTINE, which I enjoyed very much.
Before writing the Making of CHRISTINE in 2019, he first wrote another making of book, based on the Stephen King book adapted to film: CUJO. In 2017 Lee wrote the book, NOPE! NOTHING WRONG HERE: The Making of CUJO, and here are my thoughts and review of this equally enjoyable book.
In 1981 the master of storytelling and horror, Stephen King, brought the world a whole new tale of terror. This time, it was in the form of a rabid dog named Cujo. The book was a best-seller, and in 1983 the book hit the big screen, leaving film goers on the edge of their seats. The story surrounds a mother and son stranded in a broken down vehicle, while being terrorized by a rabid Saint Bernard named Cujo. The film was a box office success. Author Lee Gambin, being a fan of both the book and the film ,wrote his own book entitled, NOPE! NOTHING WRONG HERE: The Making of Cujo.
Lee has a very unique writing style, and as he did with the Making of CHRISTINE, he starts this book at the very beginning of the film's credits, going step by step until the final credits roll, as if you were watching the film. He also doesn't number the chapters, instead each chapter is headed by a line from scenes in the film, again start to finish.
The Making of CUJO, is packed full of everything you could ever want and more! Lee breaks down, analyzes, discusses, and breaks it down again. There are numerous interviews with cast members, the director, producers, and film crew. There are some pretty interesting behind the scenes stories, ranging from why the original director was fired, to filming conditions and stress, to fun stories shared by cast members. I found these especially interesting.
I found, NOPE! NOTHING WRONG HERE: The Making of Cujo, a great read. It's enjoyable, entertaining, educational, and in depth. I loved all the extensive details of the behind the scenes, deleted scenes, drama on-set, and information about the film that many of us may not have known. Once again I felt that Lee Gambin hit the mark with this fine book. I have read many making of books, but Lee's books kept my interest peaked, I just couldn't put it down! It is a must-have for all book lovers who are interested in behind-the-scenes of films, and truly a must-have for all Stephen King fans. This book is guaranteed to please and entertain if you have a love for one of the scariest dogs on film…Cujo!
RANK: 8/10
Posted in Nonfiction by Tony Northrup on June 16th, 2019 at %I:%M %p.