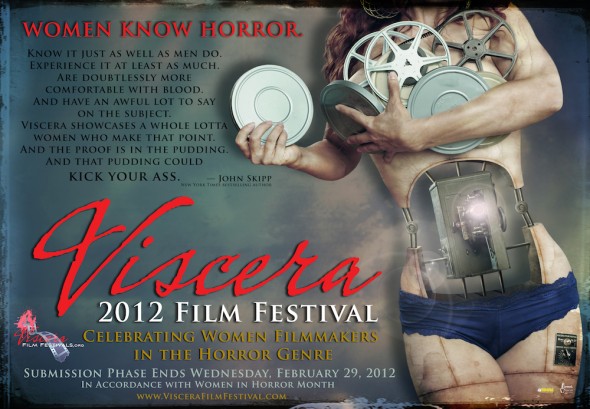 The Viscera Organization is delighted to bring you the upcoming Viscera Film Festival on July 7th, showcasing the best new horror films by women. Viscera's mission is to inspire, educate, and spotlight talented women within the genre in order to promote equality.
The 2012 festival will be bigger and better than ever. Come get wrapped in the splendor of the luxurious Egyptian Theatre and immerse yourself in the world created by this year's celebrated filmmakers. Attendees will be treated to a lineup of thirteen incredible shorts, including the first film in our new Fresh Blood (under 18) category, as well as a special Sneak Peek feature film screening of Danielle Harris' directorial debut, Among Friends. Extraordinary filmmaker Mary Lambert (Pet Sematary) will be presented the Inspiration Award onstage. The Viscera Organization will also be announcing the inception of MOHA, the Mistresses of Horror Alliance.
An unbelievable ticket price of only $11 includes: an open bar provided by Hypnotiq, Pama, and Izze; catering by Anarkitchen; live performers; the carpet and awards ceremonies; and entry into the After Party with a cash bar.
To cap it all off, AstraPacific is providing a large bus with graphics for attendees to check out as well as for transport to the After Party at The Hotel Roosevelt. This is going to be one fantastic party with tons of awesome chicks. How could you go wrong?
SATURDAY 7, JULY 2012
3:30PM – Among Friends Sneak Peek Screening
5:00PM – Carpet Ceremony
7:30PM – Shorts Program
9:00PM – Intermission
10:00PM- Q & A and Awards Ceremony
11:00PM – After Party
Price: $11.00 (YES, for the entire evening)
American Cinematheque at The Egyptian Theatre
6712 Hollywood Boulevard
Los Angeles, CA 90028
Posted in Cinema and News by Giulio De Gaetano on July 10th, 2012 at %I:%M %p.