RANK: 8/10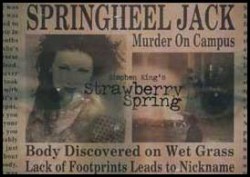 This Stephen King short story was first published in Ubris magazine in 1968 and in 1978 added to the short story collection, Night shift. The story is about a narrator thinking back over a horrible event that took place at New Sharon College over a Strawberry Spring.
A Strawberry Spring is a "false Spring", when you think Winter is over, everything is melted, and warm temps making it look and feel like Spring finally has come, but in reality it is a tease and it means a real Winter storm is coming and hard. During this Strawberry Spring comes heavy, thick fog. Fog that covers up clues from a killer that kills students at a college 8 years before. When a seriel killer by the name of "Spring-heeled Jack" goes on a killing spree, he gets away with it and is not seen or heard from again. Then 8yrs later, as the fog returns so does Jack. When one college student comes home late one night, he can't remember where he was and wonders if he is the killer? Only the cargo in the trunk of his car can answer that question.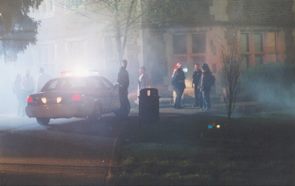 Doveed's version of this horror tale of murder and mayhem was very entertaining, creepy, and true to the original tale told by Stephen King. I did feel that I would've liked to have seen more since it is extremely short, however, Doveed's version gets right to the point and is affective. It is well done and very eerie.
RANK: 8/10
Regista/Director: Doveed Linder
Cast: Jeremiah Alley, Robert Nolan Clark, Rosemary Garris
Usa 2001
Posted in Horror by Tony Northrup on June 3rd, 2014 at %I:%M %p.