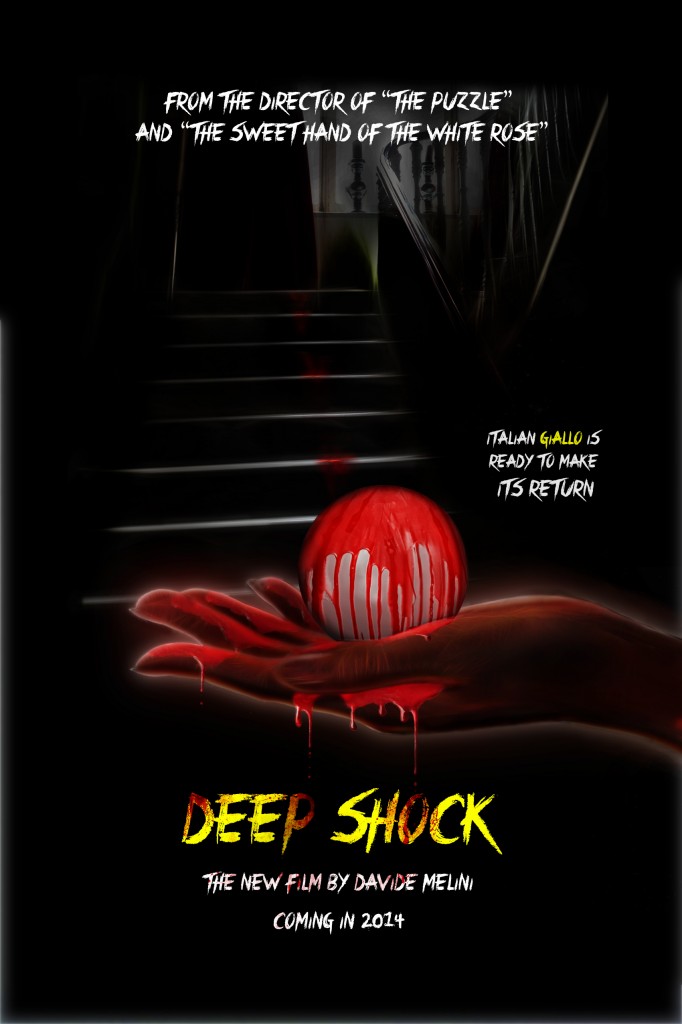 With the New Year in full swing, so does a new batch of new films, Independent, Short, and Foreign. With a look ahead, 2013 looks to be a very big year for films and filmmakers. With that said, we have the latest news from director Davide Melini. Davide is an acclaimed director who in his early years worked with the great Dario Argento.
Since then, Davide has gone on his own tackling the world of short films and independent films. In 2008, Melini released his short film The Puzzle and in 2010, it was The sweet hand of the white rose. Both of these films have received praise and awards from Film Festivals from around the world! Now, Melini brings us news of his next film project: Deep Shock.
According to Melini, Deep Shock is a throw-back to the old "Italian Giallo" films of the 60′s and 70′s. He feels it's time to bring back the old horror of yesteryear. The days of over the top gore, torture, and useless horror is over! It is time to bring back the old ways of horror and get truly scared again! Melini is no stranger to "old school" horror films. With his passion for horror ranging from such films as Jaws, Psycho and Hitchcock – He plans on bringing back the shadows/creaky door/suspense horror from back when horror films gave us nightmares at night long after the film was over.
Deep Shock is about a young woman in her mid-20′s, Sarah, who recently lost her older sister Helen and her grandfather. As she is trying to get past this terrible loss, Sarah see's horror's all around her. She can't sleep. She goes on strange journey's that bring on apparitions, visions of horror, and even murder caused by her mind in the unstable state that it is in. What does these visions of death and murder have to do with Sarah? Will she survive her families passing or will she join them? To find out, be here in 2014 for the exciting film release of Davide Melini's latest mind-bending tale of terror,Deep Shock!
Pre-Production began November 21, 2012 and filming begins late 2013 for a 2014 release to also celebrate the 50th Anniversary of the "Italian Giallo" genre of horror. The film is produced by Fabel Aguilera and Davide Melini, with a collaboration with Marta Pavon's "Kai Visualutions". As well as the help from IAJ President Soraya García Mesa, Antonio Domínguez Durán (Casabermeja Mayor), and the Provincial Deputation of Malaga.
Crew: Maikel Ramirez (Ex-Producer), Juan Luis Moreno Somé (1st Asst. Director), Jose Antonio Crespillo (Cinematographer), Fernando Moleón (Steadicam Operator), Cristina Gómez Rosales (Graphic Designer) and the music by Visioni Gotiche.
Filmed in Malaga, Spain.
Teaser in March/April 2013
Film Release 2014
Facebook Official Page here
Posted in News by Tony Northrup on February 22nd, 2013 at %I:%M %p.