RANK: 8.5/10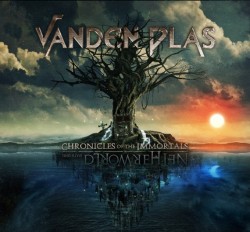 Figlio diretto di un esperimento teatrale (Blutnacht) portato avanti dal cantante Andy Kuntz, dal chitarrista Stephan Lill e dal tastierista Günter Werno insieme allo scrittore Wolfgang Hohlbein, mente dietro i romanzi del Ciclo degli Immortali, questo lavoro dei tedeschi Vanden Plas è il diretto prosieguo su disco dell'exploit dell'opera in tutta la Germania, iniettato nel mood prog-metal tipico della band teutonica.
Netherworld – Chronicles Of The Immortals Path 1 è uno splendido esempio di come la musica metal possa contaminarsi con atmosfere diverse, in questo caso provenienti dalle arie teatrali, plasmando un piccolo masterpiece dove i testi si amalgamano con la musica attraverso l'interpretazione vocale di un singer in stato di grazia come Kuntz: delicato nei momenti più drammatici, epico nelle sezioni maggiormente vanagloriose e passionale nei guizzi delle battaglie. Il prog metal mai eccessivamente tecnico o perso in assoli senza fine della band rallenta diminuisce ancora un minimo in complessità per sposarsi con atmosfere drammatiche, supportate da cori di bambini, voci femminili e tastiere presenti ma mai invadenti. Siamo dalle parti del(l'insuperato) capolavoro Christ O, davanti al buono Beyond daylight e (fortunatamente) diversi passi oltre l'imperfetto The Seraphic Clockwork,
Dopo  una breve intro ed una opener ("The Black Knight") non eccelsa ma dalle buone intuizioni, il disco innesta la marcia con il singolo "Godmaker", perfetto connubio di accelerazioni prog, epici chorus ed intermezzi di tastiera drammatici, per poi cadere nelle sensazioni malinconiche di "Misery Affection Prelude" e "A Ghosts Requiem", quest'ultima accompagnata da una sognante voce femminile. Con "New vampyre" i toni si innalzano raggiungendo il culmine con la canzone più lunga del lotto "The King And The Children Of Lost World", probabilmente uno dei brani più riusciti del lotto insieme al dittico finale "Soul Alliance" e "Inside".  Fate vostro Netherworld – Chronicles Of The Immortals Path 1 e ascoltatelo dalla prima all'ultima song, in modo da farvi cullare dalle atmosfere che ad oggi solo gruppi come gli Shadow Gallery riescono a creare.
Tracklist
01 Vision 1ne
02 Vision 2wo The Black Knight
03 Vision 3hree Godmaker
04 Vision 4our Misery Affection Prelude
05 Vision 5ive A Ghosts Requiem
06 Vision 6ix New Vampyre
07 Vision 7ven The King And The Children Of Lost World
08 Vision 8ight Misery Affection
09 Vision 9ine Soul Alliance
10 Vision 10n Inside
RANK: 8.5/10