RANK: 7.5/10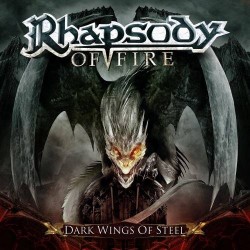 Che periodo tribolato per i Rhapsody of fire (ex Rhapsody), tra lo split tra Luca Turilli e Alex Staropoli, il cambio di monicker, l'abbandono di Tom Hess, un live (Live – From Chaos to Eternity) e l'uscita del disco di Turilli (Ascending to infinity). Ma finalmente riescono a tornare in studio per questo nuovo lavoro.
I riff heavy di "Rising from Tragic Flames" introducono la nuova dimensione dei triestini, con sfuriate heavy e cori epici nell'esaltante ritornello, richiamando alla mente la potenza esecutiva di "Dawn of victory". Si passa al mid-tempo con "Angel of Light" brano apparentemente lineare che sfocia in un chorus semplicemente meraviglioso, glorificato da un Fabio Lione in splendida forma. Uno dei brani migliori del disco. Bene anche la successiva "Tears of pain" (emozionante ritornello, ottimo solo melodico), solo discrete "Fly to Crystal Skyes" (caratterizzata da un guitar solo eclettico e tecnico), "My Sacrifice" e "Silver lake of tears", che trascinano al break lento di "Custode di Pace", molto evocativa ed appassionante (superiore alle già rilasciate "Guardiani del destino" e "Lamento eroico"). Evitando di terminare con la composizione di oltre dieci minuti, Dark wings of steel chiude le danze con "Sad Mystic Moon", brano cadenzato atipico e dal notevole impatto emotivo, sospinto da un chorus dal sapore lirico che non dimenticherete facilmente.
I Rhapsody of fire abbandonano buona parte degli orpelli puramente power metal, rinunciano a soluzioni tipicamente "pacchiane", evitano di costruire il concept intorno alla storia fantasy di turno e lasciano a casa la voce narrante (Christopher Lee nel caso), prediligendo chitarre più heavy (portate in primo piano da Roberto De Micheli) ed un minor numero di assoli/inseguimenti chitarra/tastiera. Se questa è la nuova forma della band triestina, non possiamo che esserne fieri.
Tracklist
Vis divina
Rising from Tragic Flames
Angel of Light
Tears of Pain
Fly to Crystal Skies
My Sacrifice
Silver Lake of Tears
Custode di pace
A Tale of Magic
Dark Wings of Steel
Sad Mystic Moon
RANK: 7.5/10
Posted in Heavy Metal by Giulio De Gaetano on maggio 13th, 2015 at %H:%M.