RANK: 8/10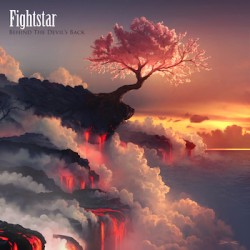 Chitarre elettriche che si innalzano come mura di cemento, urla lancinanti scagliate nel silenzio di una città erosa da un drumming preciso e martellante, avvitamenti vocali armoniosi e melodici che ricordano che in cielo vi sono ancora striature di azzurro: questo è il post hardcore degli inglesi Fightstar.
Siamo oltre i Deftones più aggressivi, lontani dai richiami pop dei Bring me the horizon, meno esasperati dei Killswitch engage, i Fightstar sono un connubio di tutto ciò, un agglomerato di ritmi dal groove tagliente ma raramente dissonante ("The Blackest of Birds"), ritornelli estremamente orecchiabili ma mai pacchiani ("Sharp Tongue", "Animal"), intro e outro ricercati ("Overdrive"). Behind the Devil's Back è un disco potente, prodotto in maniera da esaltare ogni singola nota, indicato per pogare ai concerti e, al contempo, per divenire compagno di viaggio come suggerito dall'evocativa cover.
Ascoltate anche il mood di "More human than human" che, tra sintetizzatori dal sound vintage, chitarre elettriche dal sound caldo e voce sofferta di Alex Westaway, si staglia come song da scoprire e riscoprire, una voce fuori dal coro che rappresenta non solo l'attuale bravura dei Fightstar ma anche le potenzialità per il futuro.
Tracklist
1. Sharp Tongue
2. Murder All Over
3. Behind The Devil's Back
4. The Blackest Of Birds
5. Overdrive
6. More Human Than Human
7. Animal
8. Titan
9. Sink With The Snakes
10. Dive
RANK: 8/10