RANK: 7.5/10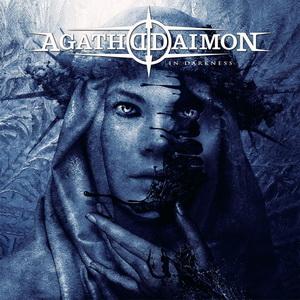 Con alle spalle dischi così validi come Phoenix e, specialmente, Serpent's embrace, i tedeschi Agathodaimon sono una delle symphonyc black metal più attese al varco, nonostante gli immensi lassi temporali che trascorrono tra una release e l'altra. Sorretti dal chitarrista-cantante Sathonys e pompati dalle urla lancinanti di Ashtrael eccoli tornare con In darkness.
Potente black metal sinfonico imbastardito da sonorità goth è il tratto distintivo degli Agathodaimon, in un connubio sonoro mai banale o scontato, in grado di scuotere le orecchie dell'ascoltatore mentre lo immerge in cupe ambientazioni dove la luce non riesce a filtrare. "Dusk of an infinite shade", "Oceans of black" o "Höllenfahrt der Selbsterkenntnis" sono sfoghi sonori ben costruiti, orchestrati con perizia e capaci di descrivere lande desolate dove anime in pena si avventano contro poveri raminghi.
In darkness non è un capolavoro ma sicuramente riesce a staccarsi da lavori di band similari come Cradle of filth o Dimmu Borgir, riuscendo a costruire atmosfere evocative e intrecci di chitarra glaciali e strazianti vocals. Da ascoltare al buio.
Tracklist
1. In Darkness (We Shall Be Reborn)
2. I've Risen
3. Favourite Sin
4. Oceans of Black
5. Adio
6. Somewhere, Somewhen
7. Dusk of an Infinite Shade
8. Höllenfahrt der Selbsterkenntnis
RANK: 7.5/10
Posted in Gothic and Top album by Giulio De Gaetano on maggio 15th, 2014 at %H:%M.