RANK: 8/10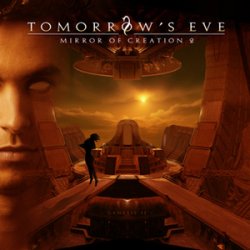 Mirror of creation: Genesis 2 è la seconda parte di un concept iniziato nel 2003, terminato solo nel 2006 in seguito ad assestamenti di line-up (e ricerca di una nuova label) che hanno reso incerto il futuro della band teutonica. La storia narra della riuscita manipolazione in laboratorio di geni umani, con l'obiettivo di modificare bambini nelle loro caratteristiche psicosomatiche e, per un controllo più stringente, viene loro creato intorno un universo parallelo a quello reale, finché un soggetto non scorge lo "specchio della creazione" e comprende il significato del pulsare del muscolo cardiaco, l'essenza della vita dietro il velo della carne.
Il motore propulsivo del disco succhia l'energia dai riff duri ondeggianti tra il thrash ed il prog, un connubio tra gli Evergrey per la resa sonora ("Rebirth") ed i Fear Factory per le atmosfere cyber ("Pain"), tra gli Ivory Tower per le divagazioni strumentali progressive ("The eve suite") ed i Queensryche di Operation mindcrime ("The market of umbra") per la natura e la realizzazione del concept, il tutto condito con echi dei Nevermore di Politics of ecstasy.
Pur avendo citato molti nomi di una certa risonanza i Tomorrow's Eve riescono a ricreare un sound personale ed adrenalinico grazie ad una rocciosa sezione ritmica e, specialmente, alle parti vocali di LeMar che traccia sempre linee melodiche ed al contempo aggressive. Si susseguono così un lotto di brani trascinanti tra accelerazioni ("Distant murmurs") e momenti pacati ("Eye for an eye"), anche se uno/due brani in meno avrebbero giovato alla pesantezza che grava sull'ascoltatore deciso ad affrontare tutti e 68 i minuti del disco senza interruzioni. Rispetto al disco precedente, anzi, i tedeschi hanno tagliuzzato la durata delle parti strumentali a favore di un lavoro più corale ed intrinsecamente legato alle liriche. L'epilogo con i 17 minuti di "The trials of man" è realmente toccante: nel brano confluiscono delicate note di pianoforte, riff pesanti dalle sonorità metal tedesche, vocalizzi diretti e potenti che si fondono a dolci sussurri, futuristici arrangiamenti di synth ed archi dai toni drammatici, cori che si stendono come tappeti sonori o che si stagliano come colonne portanti delle melodie, tutto miscelato con molto gusto e classe.
Disco sicuramente da consigliare ai fruitori di musica ricercata e potente, costruita impeccabilmente dal punto di vista tecnico/strumentale ma anche capace di destare emozioni che esulano dal mero esercizio. Meritevoli d'attenzione.
Tracklist
1. Man Without A Name
2. Amnesia
3. Pain
4. The Eve Suite
5. The Market Of Umbra
6. Not From This World
7. Eye For An Eye
8. Irreversible§
9. Distant Murmurs
10. Rebirth
11. The Human Device
12. The Trials Of Man
RANK: 8/10