RANK: 8/10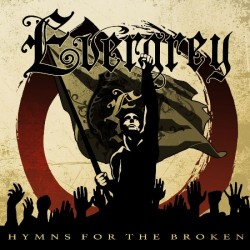 Ritornati in formazione Henrick Danhage (chitarra) e Jons Ekdahl (batteria), la band di Tom S. Englund può finalmente dar sfogo alle varie influenze che l'hanno caratterizzata negli ultimi anni, portando a compimento lavori come Glorious Collision o Torn.
Hymns for the broken è un pattern fresco e moderno di heavy metal cadenzato, sublimato da linee melodiche drammatiche ed evocative, ricche di pathos nel loro narrarci una storia di caduta e di sollevamento verso il cielo del pugno per dimostrare il proprio desiderio di rivalsa, come la bella copertina suggerisce. Tutto l'album è composto da brani mai sottotono, senza riempitivi o hit da classifica, risultando incredibilmente omogeneo e compatto con picchi creativi come il singolo "King of errors", l'emozionante "Black undertow" e specialmente la gloriosa "The aftermath".
Se avete sempre amato gli Evergrey non dubitate e ascoltate Hymns for the broken, altrimenti dategli una possibilità, vi ritroverete immersi in un disco emozionale e carico di atmosfera elettrica.
Tracklist
01. The Awakening
02. King Of Errors
03. A New Dawn
04. Wake A Change
05. Archaic Rage
06. Barricades
07. Black Undertow
08. The Fire
09. Hymns For The Broken
10. Missing You
11. A Grand Collapse
12. The Aftermath
RANK: 8/10