RANK: 6.5/10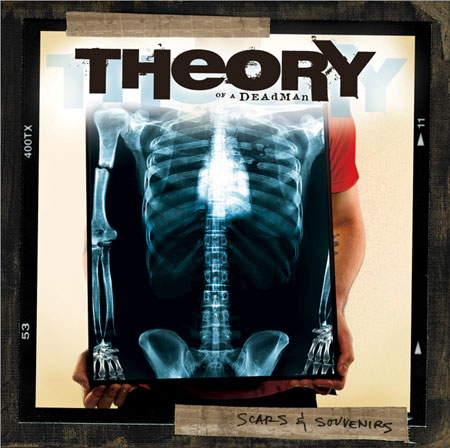 Sin dal debut album Gasoline la band canadese ha cercato di creare nuove diramazioni in un genere, il pop-rock, decisamente inflazionato. Le intenzioni sono sempre state buone, ma il risultato latita a causa di una corsa ad ostacoli in cui ci sono troppi partecipanti (più o meno) agguerriti, e quella paginetta di pubblicità o quel tour da supporter in più (o in meno) diventano determinanti.
Questo ovviamente non tenendo conto della vera e propria qualità della musica che in questo panorama è, alle volte, lasciata in secondo piano. I Theory of a Deadman hanno alle spalle il nome di Chad Kroeger, oggi voce e chitarra dei Nickelback e, in molti casi, richiamano la citata band nello stile. Sarà un caso o una scelta fatta a tavolino? Evitiamo di rispondere a questa domanda e concentriamoci soltanto sulla musica.
"So Happy" parte col piede giusto: sano rock and roll, melodia riuscita e insieme decisamente piacevole. "By the way" procede in maniera cadenzata ed accattivante, producendo un notevole chorus mentre la seguente "Got it made" risulta terribilmente scontata riuscendo tuttavia a catturare grazie ad un buon groove. "Not meant to be", "All or nothing" e "Heaven (Little by little)" compongono un trittico di ballate semplici quanto gradevoli all'ascolto anche se in alcuni momenti (specialmente nell'ultima) sembra di sentire una cover di qualche pop band persa negli anfratti (affollatissimi) del dimenticatoio. Il senso di deja-vu  non abbandona mai l'ascoltatore nel trascorrere dei minuti, anzi si fa sempre più pesante affossando Scars & Souvenirs a partire da metà disco, sia per eccessiva ripetitività ("Hate my life", "End of the summer") che per composizioni insufficienti ("Bad girlfriend", "Little Smirk"). In mezzo a tale caduta esce a testa alta "Wait for me", nuovamente una ballad dal sapore malinconico accompagnata da chitarre acustiche e arrangiamenti di tastiera capaci di catturare l'attenzione.
Per chi ama il pop-rock dei Nickelback un disco capace di fornire emozioni già rodate ma ben costruite, chi bistratta il genere non troverà nell'album un motivo per avvicinarsi al filone.
Tracklist
By The Way
So Happy
Got It Made
Not Meant To Be
All Or Nothing
Crutch
Wait For Me
Little By Little
Girlfriend
Sacrifice
Hate My Life
End Of Summer
RANK: 6.5/10
Posted in Album and Musica and Pop and Rock by Giulio De Gaetano on settembre 27th, 2012 at %H:%M.