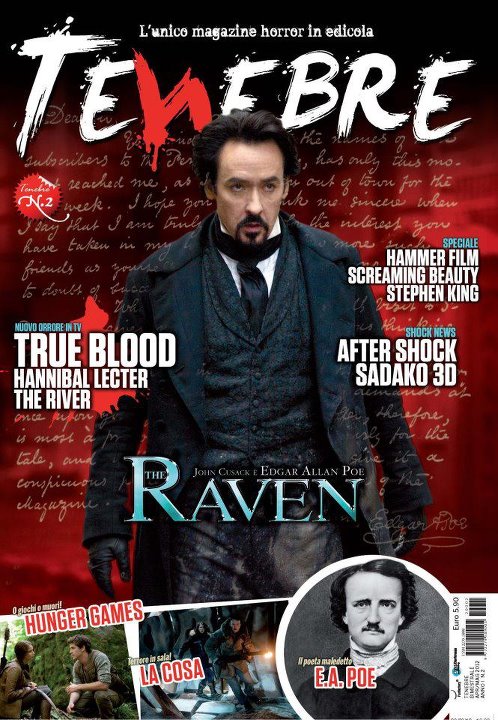 In edicola il numero 2 di Tenebre, magazine di cinema horror portato avanti con orgoglio da Roberto D'Onofrio e da un team di giovani redattori. La copertina con il recente The Raven e l'immagine di Edgar Allan Poe in basso lasciano capire l'omaggio allo scrittore statunitense, ma all'interno vi sono anche interviste, recensioni e speciali.
Precisamente:
- intervista a Claudio Simonetti, musicista, fondatore dei Goblin e collaboratore di Dario Argento per cui ha scritto le colonne sonore dei suoi films più belli nonchè quella dell'imminenteDracula 3D.
- recensione di The Caller, un originale Thriller-Horror dove una studentessa, da poco traslocata in un nuovo appartamento, viene terrorizzata da una donna che la chiama al telefono…dal 1979! Tra gli interpreti Stephen Moyer (True Blood).
- preview di Attack the Block, divertente versione sporca e cattiva dell'edulcorato Super 8. Qui una invasione di feroci alieni attacca un quartiere-ghetto di Londra. Una Baby Gang sarà l'unica difesa per i cittadini e, nello spazio di una notte, passeranno da teppisti a eroi.
- focus on Saint, l'Olandese Dick Maas (L'ascensore; Amsterdamned) torna sugli schermi con la sua personale rivisitazione in chiave "dark" della leggenda di Santa Klaus, un vescovo che, secondo la visione del regista, si è macchiato di ogni sorta di nefandezza, depredando ed uccidendo gli abitanti dei villaggi dove giunge con il suo veliero.
- speciale Hammer House of Horror: la storia, i retroscena e gli aneddoti della leggendaria Casa di produzione Britannica che ha lanciato la carriera di Peter Cushing e Christopher Lee oltre ad aver riportato alla ribalta tutti i Mostri della mitologia Horror, da Dracula al Barone Victor Frankenstein, dalla Mummia a l'Uomo Lupo.
- intervista alla "Screaming Beauty" Tiffany Schepis, apprezzata in decine di pellicole del terrore, tra cui Nympha; Il bosco dell'Horrore e Nightmare Man.
- focus on We are the Night, una originale pellicola di Vampiri femminista del regista Tedesco Dennis Gansel che inspiegabilmente fatica a trovare una distribuzione Italiana.
- speciale su The Raven.
- preview di Abraham Lincoln Vampire Hunters, The Hunger Games e Resident Evil 3D
Buona lettura.
Posted in Letteratura and News by Giulio De Gaetano on maggio 25th, 2012 at %H:%M.