RANK: 7/10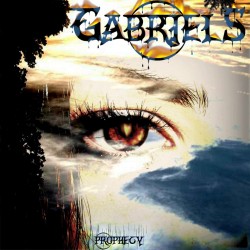 Rock opera da tempo covata nel garage di un musicista siciliano vissuto abbracciando la propria tastiera, mai sazio di girare per una scena febbricitante come quella del profondo sud, caparbio al punto dal raccogliere artisti di caratura internazionale (Mark Boals) e molto noti in Italia (Dario Grillo, Simone Fiorletta) per riunirle sotto la medesima bandiera: The prophecy.
Le partecipazioni a musical di successo (Jesus Christ superstar) e a progetti solisti importanti, come quello della Fabio Lione Band, hanno portato Gabriels ad affinare ancora di più la propria tecnica, spingendolo ad esprimersi attraverso un heavy metal classico, molto debitore a sonorità eighties come Yngwie Malmsteen (a cui "ruba" il già citato Boals), o dei primi anni novanta (Royal Hunt e Artension), senza dimenticare band granitiche come i Manowar. Il concept  album inizia con la strumentale "September 11″, svelando la tematica che attraversa tutte e undici le tracce, e prosegue con la solida e classicheggiante "Omen", dove svetta la voce di un instancabile Mark Boals. "Pray to End All Wars" rallenta i tempi esaltando le doti melodiche e la vena drammatica del disco, mentre brani dal cipiglio più power metal come "Falling stars" o "The crack" riportano l'ascoltatore indietro nel tempo.
Certo, non tutte le tracce godono di un buon songwritting ("Things Of The World", "We Need Peace") o trovano sfogo in un chorus sognante ed esaltante (la conclusiva "I Can't Live Forever"), tuttavia lo sforzo di Gabriels e la cura degli arrangiamenti non possono che premiarne le intuizioni. Certamente nel prossimo lavoro dell'artista la produzione dovrà salire assolutamente di livello, evitando di penalizzare le voci come in The prophecy, riuscendo ad instradare spunti originali non solo per le tastiere ma anche per le (anonime) chitarre. Mezzo punto in più per il coraggio.
Tracklist
1. September 11
2. Omen
3. Pray to End All Wars
4. Falling Stars
5. The Crack
6. Shadows
7. Things of the World
8. We Need Peace
9. Roar for the Peace
10. Go to Fight
11. I Can't Live Forever
RANK: 7/10
Posted in Heavy Metal by Giulio De Gaetano on aprile 16th, 2014 at %H:%M.