RANK: 7/10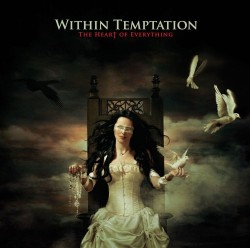 A tre anni di distanza dal precedente disco, The silent force, tornano gli olandesi Within Temptation con un disco che non si discosta granché dal precedente, proponendo brani accattivanti ed estremamente melodici. La formula della band si plasma su chitarre ritmiche sulla falsariga dei Nightwish di Once con l'appeal commerciale degli Evanescence di The open door.
Peccato che il gruppo abbia perso negli anni quella componente lirica/gotica che aveva impresso un marchio unico nello stile del disco d'esordio Enter e del successivo Mother Earth. Se "The Howling" e "Frozen" potrebbero essere estratti del penultimo disco, "What Have You Done" (con la partecipazione di Keith Caputo dei Life of Agony che ricorda molto "Bring me to life") , "Final Destination" e "The Heart of Everything" si affiancherebbero senza alcun problema di amalgama (produzione a parte) alla tracklist del già citato The Open Door. Le ballad non possono mai mancare in un disco del genere e "All I need" e "Forgiven" sono lì a dimostrarlo, delicate e ricche di pathos anche se alquanto prevedibili. Va meglio con il mid-tempo malinconico di "Frozen", grazie specialmente agli arrangiamenti di synth. Molto accattivanti i brani che contengono innesti gothic dentro la cornice rock-metal, come "Hand of Sorrow" (che gode di un intermezzo di sola voce e tastiera splendido) e "The Truth Beneath the Rose" (il brano più variegato ed affascinante di tutto il cd). Interessante anche l'intro di "The Cross", che ricorda i temi di Danny Elfman, peccato che il resto della canzone risulti debole.
Chi ha sempre amato queste sonorità si troverà cullato dalle note di The Heart of Everything e potrà tranquillamente alzare la valutazione numerica di un punto, mentre chi si è posto sempre come detrattore del genere potrà gettare fango sul disco. La band perde punti a causa della decisione precisa di non rischiare, seguendo strade già battute, affiancandosi ad una ricetta sicura e di facile presa. Tuttavia impossibile negare la validità di brani che scorrono via piacevolmente, grazie ad un gusto per la melodia sempre raffinato e curato.
Tracklist
01. The Howling
02. What Have You Done
03. Frozen
04. The Heart of Everything
05. All I Need
06. Our Solemn Hour
07. Hand of Sorrow
08. The Cross
09. Final Destination
10. Forgiven
11. The Truth Beneath the Rose
RANK: 7/10
Posted in Heavy Metal by Giulio De Gaetano on settembre 26th, 2014 at %H:%M.