RANK: 8.5/10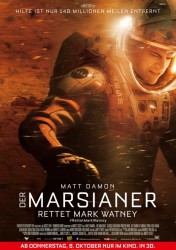 Director Ridley Scott is no stranger to Science Fiction films. He has brought us many great films but he is known for his Syfy hit Alien (1979), Blade Runner (1982), and Prometheus (2012) which were huge box office hits and way ahead of their time. Scott brings us back to the syfy universe with his latest film, The Martian. Based on Andy Weir's 2011 best-seller, this is an epic film on the grandest scale with amazing vision, Special Effects, and music set to an incredible story that sucks you in and cheering on the main character of Mark Watney (played by Matt Damon) till the very end.
The story begins right in the heart of outer space. Astronaut Mark Watney and his crew are on a space travel mission on Mars and they have to make an emergency departure due to a fierce storm coming their way. As they pack up to leave the planet, Mark Watney get's hit by debris and separated from his crew. Due to the harsh conditions, lack of time, and assuming Mark is dead – they depart and head home back to Earth leaving Mark behind on Mars.
While the crew heads home sad that their fellow astronaut and friend has died, he has not. Mark survives and now has to begin a life on Mars with little resources, little food, damaged equipment, and alone. His number one priority: Food. And seeing that he is a Botanist, his profession comes in very useful with quick thinking, knowledge, and creativity to start his own source of food supply. His next priority: let Earth and NASA know he is still alive. He has to find a way to get a signal back to NASA and let them know he's alive and well and get home before he dies of starvation.
Mark encounters plenty of obstacles that get in his way. once NASA is aware of Mark's survival, it becomes a "beat the clock" situation with getting the right equipment to be able to launch to Mars, the time lapse to get there, and if they even make it there on time before its too late! With the odds against them, scientist working around the clock to make this rescue mission possible, it is the China NASA that lends a hand to help rescue Mark Watney. To find out if Mark is rescued or spends the rest of little life he has left on Mars, I highly recommend … The Martian!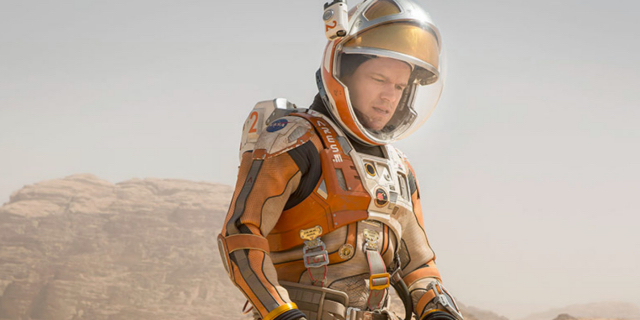 This film truly is amazing on every level! The acting: it has a great cast- Jessica Chastain, Jeff Daniels, Chiweten Ejiofor, Michael Pena, Kate Mara just to name a few, but it's Matt Damon's amazing and emotional performance that I predict will get him an Oscar nomination, let alone win. The Plot: the story is an edge of your seat, nailbiter with a "syfy version of Robinson Crusoe" feel about it. The F/X's: the special effects in this film is truly amazing! Eye-candy for the science fiction fan in all of us, there's times you feel you're right in the spaceship or on Mars with Damon.
Those familiar with Ridley Scott's films, will clearly see many of his traditional traits he uses in a lot of his films in this genre. And of course, Music: the soundtrack for this film is a lot of fun and without spoiling it, lets just say it'll take you back about..oh 40yrs and bring make some fun memories for you I'm sure. I can say as the audience was leaving the theater, some were actually singing and dancing to the exit doors, if that tells you anything. All-in-all, this film truly was top-notch filmmaking at its finest!
There will be plenty of Oscar nominations I'm sure, but Matt Damon certainly deserves it. And this is without question, My Top Fav Film of 2015….so far. So, get out there and see some movies and make sure you see…The Martian for an "out of this world" good time!
RANK: 8.5/10
Regista/Director: Ridley Scott
Cast: Matt Damon, Jessica Chastain, Kristen Wiig, Mackenzie Davis, Kate Mara
Usa 2015
Posted in Sci-fi and Top movie by Tony Northrup on October 8th, 2015 at %I:%M %p.