RANK: 9/10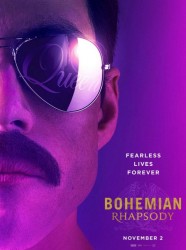 I've always taken an interest in books, and films, that surround the lives of people of notoriety. Whether they are an actor, musician, or historical figure, it has always intrigued me. We've seen these people in the spotlight many times, but it's what's behind the scenes that interests me, and grabs my attention. The new film, BOHEMIAN RHAPSODY, is about the iconic rock 'n' roll band, QUEEN, in particular, the bands larger than life lead singer, Freddie Mercury.
The film begins with clips of the band, at what is considered, the most monumental music event in history, Live Aid, in 1985. This is the opening of the film, and also sets the tone for what is to come next, the beginning of Freddie Mercury's career, with the beloved band, QUEEN.
Flashback, to Freddie's early life as a young man. Born to an immigrant family from Zanzibar, under the rule of a strict upbringing in London, Freddie dreams of something more, something bigger than the menial life he has been born into. He realizes he is different, has a carefree spirit, flamboyant nature, and sees no boundaries.
Like the other youth of his age, Freddie frequents a small town nightclub ,where he has been following a local band, Smile. The band finds themselves left without a lead singer, Freddie makes himself available, and immediately replaces their former front man. From that day forward, the new lineup would also take a new name, one in honor of her Majesty, they would simply be known as: QUEEN.
It's Freddie's over the top personality, and amazing voice, teamed with Brian May's guitar licks, that changed the face of music, with the bands debut in 1970. However, it wouldn't be until after 3 albums, which won them a place in the music scene, that they would become sensational. In 1975, one of the most groundbreaking albums in history was released, featuring the rock opera style of the now worldwide renowned song, Bohemian Rhapsody. This song was controversial even before it was released, and the film depicts the struggles they were faced with.
As the film progresses, of course the bands recognition becomes world wide. The money pours in, and each bandmates individual personality begins to emerge. With Freddie becoming the focus of the band, his personality soars, sometimes a bit too high.
Although Freddie is in the constant limelight, he is still that lonely, awkward person, that feels he will never find who he truly is. He has the world at his disposal, and his life begins to spiral out of control, as he constantly tries to find where he fits in.
Drugs, parties, poor choices in friends, and overindulgence, begin to take their toll, which leads to the inevitable breakup of the band. A visit from his life-long friend ,and first love, Mary (Lucy Boynton), helps Freddie to realize his path of destruction.
Where we came in, is where we leave off, the Live Aid Concert. Freddie is on top of his game one last time, but unbeknownst to all who love him, with the exception of his bandmates, a very few close friends, and his family, Freddie is dying from the deadly Aids virus. We as an audience, however, are left with that truly amazing ,and cosmic, one last performance that launched QUEEN into history, as being the one act that truly stole the show at Live Aid.
Sadly, just a handful of years later, Freddy Mercury would succumb to the Aids virus, on November 24, 1991. The music industry would lose one of the most iconic singers of all time. Although he may be gone, the music of QUEEN has managed to thrive, and has become timeless, known by people of all generations around the world. The anthems that were fueled by that unique and powerful voice, have been used in nearly every sports arena across the planet, with the most popular being the pulsating beat of , We Will Rock You. Yes, Freddie Mercury lives on!
I highly recommend…BOHEMIAN RHAPSODY
I was very excited to see this film as I've said, and seeing it on the big screen is a must! The concert scenes (especially Live Aid), and the performances by actor Rami Malek (Freddie Mercury), are amazing, and he has captured the essence of Freddy Mercury, impeccably. The casting was spot on, and this is beautifully filmed. Director Bryan Singer, best known for films such as, THE USUAL SUSPECTS, THE APT PUPIL, and the X-MEN franchise , has done this story justice, as this is quite a departure from what we have seen from him before. Some have criticized the film as being to much a product of the Hollywood machine. Others criticized it, saying the story should have delved more into the aspect of Freddie's illness. In my opinion, I believe that it was done well, as the story was centered around the entire band's struggles of breaking onto the scene, achieving success, and yes, the sad demise of Freddie, due to many lifestyle choices, as well as aids. To have focused further on his illness, was not necessary for this story to be told, and some things are best left unspoken, as to preserve the integrity of the person. One thing you can bet, you can't see this film without tapping your foot, or singing along to mega-hits like, 'You're My Best Friend', 'Another One Bites the Dust', 'Crazy Little Thing Called Love', 'Killer Queen', 'We Will Rock You', 'We Are Champions', and of course, 'Bohemian Rhapsody', and many others. However, the one very important thing I did like that was revisited throughout the film, was the frailty of the human spirit. No matter how famous one becomes, there are many times something's missing. It seems that Freddie Mercury, for all that he had, and all that he gave of himself to the world as a performer, or gave to those he knew, he seemed to still be a very lonely man. I hope you will take the time to see this very entertaining film on the big screen, and if you don't, it is well worth your while when it is released on streaming or DVD. I don't know a QUEEN fan who wouldn't love to look at the recreation of one of the most beloved music icons of our lives, Mr. Freddy Mercury … long live the Queen!
RANK: 9/10
Regista/Director: Bryan Singer
Cast: Rami Malek, Ben Hardy, Joseph Mazzello, Gwilym Lee
United Kingdom 2018
Tags: Ben Hardy, bohemian rhapsody film review, Bryan Singer, Gwilym Lee, Joseph Mazzello, Rami Malek
Posted in Comedy by Tony Northrup on January 15th, 2019 at %I:%M %p.