RANK: 8.5/10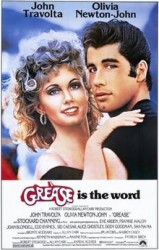 In 1977, John Travolta was a box office superstar with his disco hit film, SATURDAY NIGHT FEVER. Not only did he return to the big screen dancing, but this time he sang his way in to our hearts, with yet another box office smash, GREASE, which takes place in the 1950′s. The film GREASE was based on the hit stage musical of the same name, and featured an all-star cast.
Directed by Randal Kleiser, GREASE was the highest grossing musical of all time at that point, and still ranks the 4th highest in film history! It was the 2nd biggest selling album of 1978, and was nominated for an Oscar for best song, "Hopelessly Devoted to You", however, it lost to Donna Summer's song, "Last Dance", featured in the film THANK GOD IT'S FRIDAY. GREASE is considered one of the greats among the neo-classic love stories in the world of film. It's the typical love story of bad boy, meets good girl, and two worlds, different worlds however, collide.
Danny Zuko (John Travolta), meets Australian beauty, Sandy Olsen (Olivia Newton-John), over the summer at the beach. When Sandy tells Danny she has to go back to her country, he fears he'll never see her again. Once the new school year of 1958 begins at Rydell High School, Danny tells his fellow T-Birds (Kenickie, Doody, Sonny, and Putzie), about his summer love, Sandy. Meanwhile, there's a new girl in school, Sandy, who makes friends with the quirkiest girl around, Frenchy, who introduces Sandy to the coolest girls on campus, The Pink Ladies (Rizzo, Marty, and Jan). Feeling that she is completely out of step with these fast paced, worldly girls, Sandy doesn't know what to do.
At one of the school pep rallies, Sandy is astounded that she is once again reunited with her summer love, Danny. The story begins to take off. Will Danny and Sandy be able to rekindle what they had over the summer? Will Sandy still be that same sweet, shy girl that she was when she met Danny? With great musical numbers, humor, and cast, and great memorable scenes – GREASE is certainly 'the word' even 40 years later.
GREASE also stars the late Jeff Conaway, Stockard Channing, and a whole cast of great young actors of that time. There is also a special appearance by the famous musical group of that era, Sha Na Na. If you haven't seen GREASE in recent years, or have kids who have never seen it, I highly recommend you rent the DVD, or view it on one of the many streaming channels, and take a little trip back in time with this enjoyable musical classic!
RANK: 8.5/10
Regista/Director: Randal Kleiser
Cast: John Travolta, Olivia Newton-John, Stockard Channing, Frankie Avalon, Jeff Conaway
Usa 1978
Tags: Frankie Avalon, GREASE, GREASE review, Jeff Conaway, John Travolta, Olivia Newton-John, Randal Kleiser, Stockard Channing
Posted in Comedy by Tony Northrup on June 26th, 2018 at %I:%M %p.