RANK: 8.5/10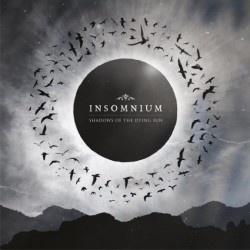 Dire che gli Insomnium sono una garanzia non è un'eresia, un po' come quando sopraggiunge negli scaffali un disco degli Amon Amarth, qualità assicurata prima di ascoltare il disco. Arrivati alla sesta uscita, il gruppo finlandese rimane ancorato alle sonorità che lo hanno sempre contraddistinto, per cui melodic-death fortemente imbastardito da un sapore doom e da partiture malinconiche. E con Shadows of the dying sun la band fa ancora una volta centro.
Ottimo trittico di inizio, specialmente grazie alle curatissime melodie di "While We Sleep", evangelizzata dal growl di Niilo Sevänen, ed alla combo chitarra/batteria di "Revelation" che, insieme a "Ephemeral", ricorda così tanto i Dark Tranquillity senza mai perdere il tocco Insomnium in modo da citare e non copiare. Le alternanze di sezioni drammatiche e melodiche con altre aggressive, ma dal cipiglio sempre dark, si susseguono tra rocciosi mid-tempo ("Lose To Night") e accelerazioni improvvise ("Collapsing words"), raggiungendo l'apoteosi con "The river": riff di chitarra epici, arpeggi acustici, voci sussurrate, urla disperate, doppia cassa e blast che non lasciano respiro. Il capolavoro del disco.
Rispetto ai precedenti dischi, gli Insomnium hanno donato maggiore lustro agli aspetti melodici, componendo un pattern di emozioni che non possono che sfiorare le corde dell'animo, per poi percuoterle senza pietà, in un connubio mai melenso o banale. Shadows of the dying sun è un nuovo livello per il melodic-death dalle tinte più atmosferiche.
Tracklist
1. The Primeval Dark
2. While We Sleep
3. Revelation
4. Black Heart Rebellion
5. Lose To Night
6. Collapsing Words
7. The River
8. Ephemeral
9. The Promethean Song
10. Shadows Of The Dying Sun
RANK: 8.5/10