RANK: 7.5/10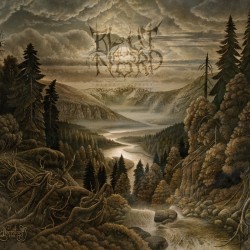 Sono francesi questi Blut Aus Nord, fautori di un black metal non primigenio, ma quasi, in quanto contaminato da derive esoteriche che ne influenzano alcune componenti musicali e le liriche. Saturnian Poetry è il terzo capitolo di un concept iniziato nel 1996 con Fathers of the icy age e continuato nel 2009 con Dialogue with the stars, titoli inseriti sotto la label "Memoria Vetusta".
I blast della sezione ritmica ben si sposano con le urla gutturali del singer, trascinando riff di chitarra semplici e diretti, come dettato nei dogmi dei primi anni novanta, che via via cambiano forma divenendo un magma più importante nella composizione dei brani ("Tellus Mater"), si dilatano nel tempo e nello spazio per dare vita a viaggi astrali ("Metaphor Of The Moon") e lasciando posto a divagazioni maggiormente atmosferiche ("Forhist").
Saturnian Poetry riesce proprio nella sua apparente semplicità, più coerentemente inquadrabile come "genuinità", dimostrando come i Blut Aus Nord siano fautori di un'aggressione sonora dalla forte matrice simbolica, figlia di un certo modo di vivere oltre che fare musica degli esordi del black metal.
Tracklist
01. Prelude
02. Paien
03. Tellus Mater
04. Forhist
05. Henosis
06. Metaphor Of The Moon
07. Clarissima Mundi Lumina
RANK: 7.5/10