RANK: 7/10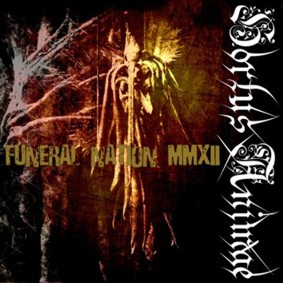 Dopo ben 15 anni di carriera è il momento per i riminesi Hortus Animae di raccogliere in un doppio cd quello che è un pezzo importante della loro storia. Ben ventisei tracce che si muovono tra un black metal primigenio e furioso, passaggi death dal sapore alle volte progressive, atmosfere decadenti consone al gothic e spunti strumentali che variano dalle sfuriate solistiche a riff melodici composti da poche note.
Il disco parte con il terzo lavoro della band, quel The blow of furious winds splendido nel suo incedere black melodico sì, ma ben lontano dalle influenze dei Cradle of Filth o dei Dimmu Borgir, passa all'inedito primo The melting idols, ancora acerbo e troppo legato ad un modo di pensare il black metal lontanissimo dallo stile odierno, e chiude con Waltzing mephisto, album dove il sapore black del precedente si inizia a mescolare a gusti tastieristici (presenti entro i limiti del genere pre-melodico) notevoli.
Si parte, quindi, con estratti da The blow of furious winds, precisamente con Furious Winds / Locusts, vera e propria furia dall'incedere alle volte accelerato, spesso cadenzato, e si balza subito dopo verso le fauci "sognanti" di The Mud and the Blood / Funeral Nation e The Heartfelt Murder. Le tracce scivolano via innalzando il livello adrenalinico, specialmente con episodi quali Bible Black e, riconfermando l'ottima resa della band e l'interessa di una proposta originale e intensa. Le atmosfere violente del black implodono con estratti da The melting idols come Cruciatus Tacitus o la title-track stessa, mostrando una band primordiale nell'incedere (il che è un bene per gli aficionado del black classico), ancora troppo ancorata agli stilemi delle black metal band norvegesi dei primi anni novanta (Emperor come i primi Satyricon). Piccoli guizzi sperimentali anticipano le evoluzioni presenti nell'ultimo Waltzing mephisto (cronologicamente il secondo della band), sostenuto da piccole gemme come Springtime Deaths o Welcome the Godless, dove echi di gruppi come i Crematory  appaiono in sprazzi sonori che impreziosiscono l'impatto globale.
Con chicche quali il medley che include Freezing moon, Tubular Bells o Terzo incontro dei Balletto di bronzo, o l'artwork curato da Niklas Sundin dei Dark Tranquillity, il disco degli Hortus Animae non può che acquistare valore, specialmente per chi ha seguito il black in (quasi) tutte le sue forme
Tracklist
CD 1:
1 – Furious Winds / Locusts
2 – The Mud and the Blood / Funeral Nation
3 – The Heartfelt Murder
4 – The Virgin Whore
5 – In Adoration of the Weeping Skies
6 – Across the Sea of Pain
7 – Bible Black
8 – A Gothic Ghost / The Death of All Beauty
9 – Garden of Fairies
10 – The Fairy Feller's Master-Stroke / Nevermore
11 – Windfall introducing Summoning of the Muse
12 – Freezing Moon including Terzo Incontro and Tubular Bells
CD 2:
1 – Luciferian Twilight
2 – The Bless of Eternal Bleeding
3 – Cruciatus Tacitus
4 – Spell & Devotion (Impromptu Op. I)
5 – The Melting Idols (I – Prisoners of Dusk, II – Beholding The Death of His Son, III – Fallen Angel's Mourning Silences)
6 – Even Death is Useless
7/8 – Enter
9/10 – A Lifetime Obscurity
11 – Springtime Deaths
12 – Souls of the Cold Wind
13 – Welcome the Godless
14 – A Feeble Light of Hope
RANK: 7/10