RANK: 7.5/10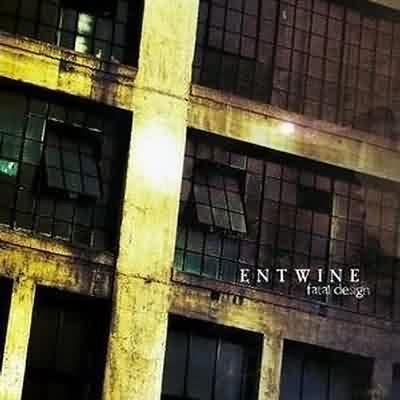 Giunti al quinto album, i finlandesi Entwine compiono un passo indietro virando verso sonorità maggiormente accostabili a Time of despair del 2002 che a Dieversity del 2004. Si riaffacciano così gli stilemi gothic già precedentemente sperimentati dal gruppo, lasciando scivolare via il grosso della componente hard rock.
Fatal design è la classica Entwine song, caratterizzata da tempi ritmati, melodie facilmente assimilabili, passaggi versi/ritornello scontati ma efficaci. "Chamelon halo" inizia con riff più atipici al genere, ma l'ingresso della timbrica vocale di Tauriainen riporta il sound sui binari già collaudati siglando un altro ritornello molto catchy. "Out of you" risulta parecchio scontata mentre la successiva "Surrender" si accosta a certe sonorità più moderne di HIM, risultando anch'essa ricca di melodie prevedibili ma godibili. Un arpeggio malinconico segna l'incipit di "Oblivion", rotta dal chorus pomposamente urlato; mentre trascinante si rivela "Twisted", una vera girandola da pogo sfrenato in sede live. "Insomniac" e "My serenity" lasciano il tempo che trovano, a differenza di "Break me", triste nei versi, ariosa nel ritornello, decisamente ben riuscita. Chiude il disco "Curtained life", seguendo la scia delle precedenti songs, con una buona melodia di tastiera che la contraddistingue.
Fatal design, nonostante la totale assenza di originalità, riesce a convincere. I 42 minuti scorrono via piacevolmente, senza particolari cali di tono, ma anche senza aggiungere nulla al processo evolutivo degli Entwine; tuttavia non sempre si ha voglia di andare al ristorante a gustarsi l'aragosta, alle volte una bella abbuffata di carne soddisfa di più. I detrattori del genere lo evitino accuratamente.
Tracklist
Fatal Design
Chameleon Halo
Out Of You
Surrender
Oblivion
Twisted
Insomniac
My Serenity
Break Me
Curtained Life
RANK: 7.5/10
Posted in Gothic and Rock by Giulio De Gaetano on novembre 9th, 2012 at %H:%M.