RANK: 7/10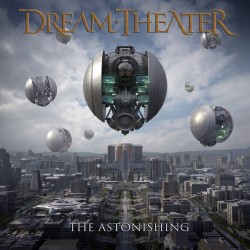 Trentaquattro canzoni, oltre due ore di musica, un disco insolito nella discografia dei Dream Theater, The astonishing è un'opera rock basata su un concept fantasy che si colloca in un futuro medievale, dove la musica è riprodotta artificialmente da automi per volere di una sorta di despota, almeno fino alla comparsa di un giovane che sembra avere dentro di sé il "dono della musica".
Eliminiamo sin dall'inizio ogni commento sugli aspetti tecnici per concentrarci sulla musica: David Campbell è colui che ha firmato gli arrangiamenti (orchestra e cori) e si sente. Gran lavoro, infatti, è stato fatto dietro le quinte e citando gli ultimi dischi a cui ha collaborato (al di là dei gusti) è facile intuirne l'intensità: U2 Songs of Innocence Deluxe edition, Bon Jovi What About Now, Linkin Park Meteora. Le performance di tutti i musicisti, invece, è come sempre superlativa, ma dimenticatevi fughe ai limiti della jam session o virtuosismi sciogli-dita; la tecnica c'è e si sente ma il pathos viene prima.
The Astonishing è una rock opera con spinte da musical che, dal punto di vista sonoro, per darne una connotazione in grado di suggerirne l'immagine creata, è l'incrocio tra alcuni brani di Metropolis Pt. 2: Scenes from a memory e la pomposità di Six degrees of innner turbolence. Naturalmente si parla di pura speculazione per dare la prima bozza di idea, in quanto questo disco non possiede neanche lontanamente la freschezza compositiva di Metropolis Pt. 2: Scenes from a memory, né la genuinità del sesto album della band.
Elementi cardine per apprezzare quest'ultima fatica dei Dream Theater sono: gradire i brani lenti e malinconici (togliere almeno 3.5 punti dalla valutazione in caso negativo), rinunciare ad importanti assoli dall'alto contenuto tecnico (togliere altri 2 punti), vivere la storia mentre si ascolta la musica (altrimenti togliere almeno 1 punto) e andare a vedere cosa combinano dal vivo, specialmente a teatro. Con queste prerogative, anche un brano semplicemente pop come "Chosen" diviene importante nella sua collocazione a livello narrativo, e ad alto impatto emotivo.
Non cercate canzoni prog (rock o metal che sia) che non staccherete dal lettore e consumerete in religioso silenzio limato da minimo headbanging, perché non ce ne sono. Non cercate composizioni solo strumentali, tali da farvi attaccare il jack all'amplificatore e iniziare a smanettare con la chitarra, ce ne sono ma, per scelta, non sono né "Overture 1928″ né "The ytse jam". In The astonishing troverete pathos, sezioni narrate, accelerazioni improvvise, toni epici e magniloquenti non nella forma canzone ma nella forma disco. Per cui distendetevi sul letto, mettetevi in cuffie, aprite il booklet, e date il via all'ascolto. Sicuramente non si tratta della forma musicale finale a cui i Dream Theater vogliono arrivare, siamo più vicini ad un ibrido che, tuttavia, innestato nella vasta discografia della band, assume una sua dignità.
Tracklist
Act I
Descent of the Nomacs
Dystopian overture
The gift of music
The answer
A better life
Lord Nafaryus
A savior in the squar
When your time has come
Act of Faythe
Three days
The hovering sojourn
Brother, can you hear me?
A life left behind
Ravenskill
Chosen
A tempting offer
Digital discord
The X aspect
A new beginning
The road to revolution
Act II
2285 entr'acte
Moment of betrayal
Heaven's cove
Begin again
The path that divides
Machine chatter
The walking shadow
My last farewell
Losing Faythe
Whispers on the wind
Hymn of a thousand voices
Our new world
Power down
Astonishing
RANK: 7/10
Tag:DREAM THEATER, DREAM THEATER The astonishing, DREAM THEATER The astonishing recensione, prog metal, The astonishing, The astonishing recensione