RANK: 7.5/10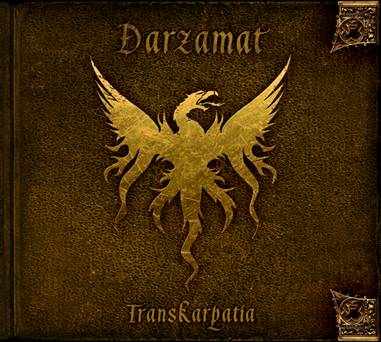 A 10 anni dall'album di debutto In the flames of black art, che mi procurai attratto dalla splendida copertina, i Darzamat proprio con Transkarpatia evadono definitivamente dall'underground grazie anche ad una serie di concerti europei che li hanno affiancati a band storiche e di rilievo.
Il concetto musicale dei polacchi si è evoluto marchiando a fuoco caratteristiche quali atmosfere sinistre e gotiche, ottimi arrangiamenti di strumenti classici, riff black, sapori death e binomio vocale maschile ferale/femminile dolce dai rimandi gothic.
Sin dall'intro "Sanguinaris" si è avvolti in un contesto oscuro, dove ancestrali sapori e tetre nenie accompagnano i vampiri presentati nel concept. "Vampiric prose" è veloce e dinamica, malsanamente interpretata da Flauros fino al break ammaliante che veleggia sulle corde vocali di Nera. Maggiormente cadenzata la seguente "Hallucinations" che si fregia di un ottimo break melodico, mentre "The burning times" esplode violentemente supportata da un buon riffing di chitarra che ben si amalgama alle continue variazioni di atmosfera sfocianti nel goticheggiante ritornello. Narrata dalla voce di Nera su criptiche note di synth è "letter from hell", testamento che si pone come prequel per lo sfogo di "Blackward", ottimamente suonata da Golem, veramente rapido e preciso, che prosegue sul versante più estremo del combo. "Araneum" è l'ennesimo break orchestrale di apertura per la terza ed ultima parte del disco che inizia con la cadenzata e catchy "Labyrinth of Anxiety". Tetre note di pianoforte scandiscono "Virus", più delicata ed ottimamente interpretata da Nera sino al ritorno all'aggressività di "The old form of Worship" e di "Tempted by rot", caratterizzate da riff ai limiti del death. La chiusura spetta a "Tribute to …", malvagia nenia echeggiante su una base ambient, squarciata da lamenti sinistri della brava singer.
Sicuramente i Darzamat hanno ingranato una marcia in più rispetto al precedente Semidivilish arricchendo il sound con una sfarzosa pomposità tuttavia rispettando le leggi che il black metal melodico impone. Le incursioni dark ambient sicuramente danno un tocco particolare alle composizioni anche se resta obbligatorio l'ascolto accompagnato dalla lettura dei testi, per potersi immergere nel canovaccio elaborato dal gruppo.
Tracklist
1 Sanguinarius (Intro)
2 Vampiric Prose
3 Hallucinations
4 Inhumatus (Intro)
5 The Burning Times
6 Letter from Hell
7 Blackward
8 Recurring Yell
9 Araneum (Intro)
10 Labyrinth of Anxiety
11 Virus
12 The Old Form of Worship
13 Tempted by Rot
14 Tribute to …
RANK: 7.5/10
Posted in dark/ambient by Giulio De Gaetano on giugno 14th, 2013 at %H:%M.