RANK: 8/10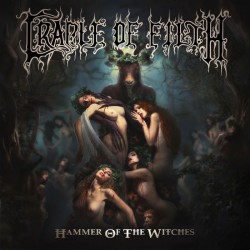 Fautori di capolavori come Dusk And Her Embrace o Cruely And The Beast, i Cradle of filth hanno attraversato un periodo buio, nel senso negativo del termine, con Nymphetamine o Godspeed on the Devil's Thunder, in cui il songwritting sembrava dover restare monco, inconcludente. Lontani spiragli di luce si intravedevano con Darkly, Darkly, Venus Aversa e solo con quest'ultimo lavoro i succhiasangue inglesi riescono a far sorridere i sostenitori.
Senza alcuna ipocrisia è necessario affermare come la fuoriuscita del chitarrista Paul Allender sia stata una boccata d'ossigeno. Il chitarrista aveva fatto il suo tempo e il suo ostinarsi con riff thrash aveva solo portato pesantezza nel sound della band, colpita anche da notevole calo di ispirazione e performance live. Hammer of the witches riporta indietro le lancette e innesta quel sano black metal melodico che ha da sempre contraddistinto la band, elargendo melodie gotiche ("Deflowering The Maidenhead, Displeasuring The Goddess", "Blackest Magick In Practice") e pigiando sul pedale dell'acceleratore ("Hammer of the witches"), in un connubio che riesce grazie ad un songwritting finalmente ispirato, che necessita di qualche ascolto per essere pienamente assimilato.
Nessun urlo al miracolo, ma riascoltare la verve dei Cradle of filth non può che far piacere, naturalmente solo per chi è amante del genere. Vedremo se si tratta di un fuoco di paglia o se questa rinnovata linfa si protrarrà nel tempo, riportando gli inglesi sul podio che gli spetta. Da ascoltare leggendo le liriche.
Tracklist
01. Walpurgis Eve
02. Yours Immortally…
03. Enshrined In Crematoria
04. Deflowering The Maidenhead, Displeasuring The Goddess
05. Blackest Magick In Practice
06. The Monstrous Sabbat (Summoning The Coven)
07. Hammer Of The Witches
08. Right Wing Of The Garden Triptych
09. The Vampyre At My Side
10. Onward Christian Soldiers
11. Blooding The Hounds Of Hell
RANK: 8/10
Tag:black metal melodico, Hammer of the witches recensione
Posted in Gothic and Heavy Metal by Giulio De Gaetano on novembre 9th, 2015 at %H:%M.