RANK: 8/10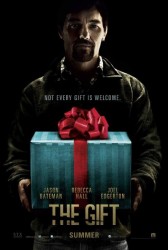 There is nothing like a good suspense/thriller to keep you entertained and The Gift is no exception. This is a film on the same lines as anything by Alfred Hitchcock and films like Fatal Attraction. This is a film about revenge taken to a whole new level and it tells us that you should be nice to everyone.
The film is about Simon (played by Jason Bateman) who is a very rich, successful, and full of himself guy who is about to buy a new house with his wife, Robyn (played by Rebecca Hall) who appear to be the "perfect couple". However, appearances can be fool you. While out shopping for their new home, it is no coincidence that Simon runs into old High School classmate Gordo (played by Joel Edgerton). Simon and Gordo have a very interesting & secret past history together that goes back to their youth days in school. As Gordo weaves his way into their lives by leaving "gifts" on their doorstep, calling them on the phone, and other annoying acts – Simon and Robyn are torn between asking nicely to leave them alone or feel sorry for him and keep him as a "friend"? However, some people just don't get the hint and Gordo continues to leave even more gifts for them.
However, the story takes a major turn from focusing on Gordo and more on Simon as more is revealed of who he really is and his past and how Gordo is part of it. This roller coaster ride of a film takes off from there and you better hold on because there is a twist within a twist that you will NOT see coming! To find out what that twist is and how this obsessed friend or is it the other way around…ends I highly recommend … The gift.
Once again, a very nice unexpected surprise as we enter the end of the summer blockbuster season. This was an edge-of-your-seat film and I enjoyed every minute! The cast is solid, Bateman's character as 'Simon' is one of those characters in film that you are just gonna hate, but no spoilers here, just go see it and watch out for the double-twist because like me, it'll leave you with mouth open and eyes wide with surprise.
RANK: 8/10
Regista/Director: Joel Edgerton
Cast: Jason Bateman, Rebecca Hall, Joel Edgerton, Allison Tolman
Usa 2015
Posted in Giallo/Thriller by Tony Northrup on August 27th, 2015 at %I:%M %p.