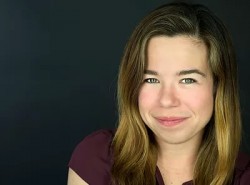 One of the joys of doing film reviews, especially Stephen King Dollar Baby films, is the excitement these filmmakers have. Jackie Perez is no exception. She is full of energy and excitement, not only for filmmaking, but for the horror genre as well. This includes the love for the master storyteller himself, Stephen King.
Jackie was born in San Antonio, Texas but claims Los Angeles, California as home, as it's the longest place she's lived. Jackie moved many times as a child, as she is what they call a military brat, and also as an adult, while she too, was in the Navy. Jackie has always loved film, especially horror, and movies were her escape. She started writing and making narrative shorts in college, as she was inspired by the film Hostel, during a Q&A session with Eli Roth. It was in high school though, in Jacksonville, Florida, that she began playing around with a camera, documenting events with friends, soon becoming hooked on filmmaking!
Jackie finished her undergrad studies at MIT, for environmental engineering, then spent 5 years as a nuclear engineering Naval Officer. While working in Hollywood, she completed her MFA in Television and Screening, at Stephens College. Now that Beachworld is through post, Jackie is finishing up rewrites on a few feature scripts that she's been working on, and has been commissioned to write a biography on Sally Ride, who NASA recognizes as the first American Woman in space. Wow, congratulations are in order, and this will be published in 2021.
I had the pleasure of speaking with Jackie about her life and career, and here is my exclusive interview.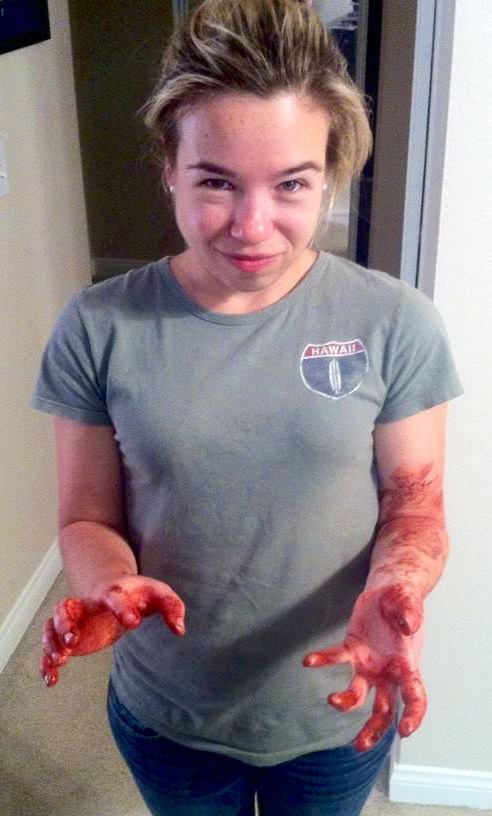 Tony Northrup – You traveled quite a bit as part of a military family. How and when did your love for film first begin? Als0, what is it about the horror genre that attracts you so?
Jackie Perez – My love for horror began in the womb! My mom read IT, Christine, and The Stand when she was pregnant with me, so I think I started to love it via osmosis. I read voraciously, and film was another way to escape reality. My parents let me watch whatever I wanted, except Beavis and Butthead, so I have home videos of me watching stuff like Hellraiser, and Rocky Horror Picture Show when like 5 years old. I've always loved the adrenaline rush of being scared. I'm a very analytical, non-emotional person, so I love horror, it invokes such an emotional response in me that I don't normally have in everyday life.
TN – What were some of your favorite books and films that inspired you growing up?
JP – I loved Upton Sinclair's The Jungle, and Ender's Game by Orson Scott Card. I've revisited each several times throughout my life. I guess you can say I'm drawn to hopeless situations and very dark endings. Film-wise, I am a sucker for 1980s horror-comedies. Dead Alive, and Terrorvision were staples. Still are!
TN – Going from environmental engineering, and nuclear engineering ,to filmmaker, is a really big change of career. What happened to make such a drastic change, and would you ever leave filmmaking to go back to the engineering field again?
JP – After watching Chernobyl, there were a few moments where I missed that world, and missed being an expert in that world. I went to Hollywood because I love film, and love horror. Now I'm becoming an expert in my craft, and what I love about writing is that I get to learn new things every day, including diving into science and engineering for research. I've learned a ton about the early days of computing, for a new screenplay I'm working on about Grace Hopper, and I'm learning about a whole new world for my biography on Sally Ride. Between Hollywood, the Navy, and MIT, it's kind of crazy how many people I already know who are astronauts, or work in the space industry, and now I get to pull all those strings together and create something, that will hopefully get young people excited about STEM. So I still feel very involved in a way.
TN – What type of short films did you make while attending college?
JP – No budget ones! I'd grab a camera, grab my engineering classmates, and we'd spend a few hours shooting. No lights, no sound gear… we just made use of what we had around us for production design. I don't think I even bought them pizza or anything, and honestly, I don't think I even knew what production design was. The third short I made, I did buy pizza, because I had actors I found through Craigslist. I was totally winging it.
TN – You said you were inspired by horror director Eli Roth to pursue filmmaking, where was that Q/A at specifically? Was it a convention, or a special event at your college? Did you get to meet with him?
JP – It was a Q&A he did in Boston for Hostel. His dad was there. Eli's from Boston. I was already a big fan of Cabin Fever from watching it in high school, and even though I was studying my butt off at MIT, I still went to a ton of horror film and midnight premiers. I remember going to see SAW at an advance screening, and then dragging all my friends to see it on opening weekend. I even got a cool Jigsaw stuffed doll. Back to your question… no, I didn't get to meet him, but not for lack of trying. I wanted to do an interview for our school newspaper, and he was doing a breakfast interview with different colleges. I told the paper my plan ahead of time and that I was going to submit as a guest post, and they called and told them I didn't work for the paper and to not allow me to attend. So instead of a getting an awesome interview with Eli Roth (which I secured), they got nothing. All thanks to some clueless editor who knew nothing about film, on a power trip. Lesson learned: better to ask for forgiveness than for permission.
TN – When did you first discover Stephen King, and what are some of your favorite books and films by him?
JP – My first foray into a Stephen King book was Desperation, in 5th grade. My absolutely favorite book of his is, The Girl Who Loved Tom Gordon, and I think Misery is the best adaptation for screen of his work.
TN – You live in Bahrain in the Persian Gulf. It must be very hard to get Stephen King books or latest news there, correct? How did you first hear about the Stephen King, Dollar Baby Program?
JP – Not at all! It just takes a bit longer. There's a few bookstores, and luckily the library I live near has a whole shelf full of Stephen King books. Those coupled with my personal collection… I'm set! I still follow all the trades every day to stay up on entertainment news. Most movies come out the same release date, and some I have to wait a bit. I had to wait two weeks for Midsommar, and I was so sad to be out of the loop on all the online discussions! I moved to Bahrain (where the US has a Navy base), a few weeks after we wrapped production, and I'll be back in the States permanently in early 2021. I first heard about the Dollar Baby Program at a friend's barbeque in LA, by a guy who had optioned Strawberry Spring. He never ended up getting into production with that one.
TN – Out of all the Stephen King short stories, what attracted you most to Beachworld?
JP – Three things: no children, no snowy setting, and the location! We lived a manageable drive to the largest dunes in California. That and the limited character count sealed the deal. I picked something that I enjoyed reading, but was also a practical decision about budget. It was also a plus that Beachworld doesn't have a ton of adaptations. I think we are one of four that I know of.
TN – What changes did you make in order to adapt this film as your own, as opposed to King's original text?
JP – The original story had all male characters, and I wanted to update that. When I started thinking of a woman at the center of the story, that snowballed into other ideas. I started out with a very straightforward adaptation of the original story, but again, limited budget forced us to make some creative changes, and each draft I had to chip away at things. There's no wrecked spaceship that slowly fills with sand. I loved that aspect of the story, but the numbers just didn't work for us to build something like that. But it ended up working great because we got to make the most of our amazing dunes setting ,and set everything outside. Also we adjusted the ending. I will say… Frank Darabont's The Mist was a big inspiration. You'll have to watch to see.
TN – So many Stephen King fans want adaptations to be as close to the book as possible, how do you handle the pressure to keep the fans happy?
JP – I just have to make something I love. Filmmaking is too hard to try and please others. There's always going to be people who don't like your content. But you have to be comfortable enough with yourself and your work to tune them out and just keep making what you want to see.
TN – What was the main goal you wanted to achieve with this film?
JP – My main goal was to push myself. To make something bigger and more challenging than I've ever made, and I got through it! I learned a lot along the way, and now feel ready to make a feature. In a perfect world, this calling card will help me get representation.
TN – Where was the movie filmed specifically, and were there any obstacles to overcome while filming there?
JP – We filmed one day in the Glamis Sand Dunes, near Imperial County, CA which was a huge logistics undertaking. We had to caravan down there and do two overnights. But the biggest obstacle was the unpredictable environment. We're dealing with wind, sand, heat, and an $80K camera. We couldn't have picked a better day to shoot. The day before was way too windy for droning, and the day after the temperature shot up more than 10 degrees. And although the dunes are a destination spot for dune buggies, we chose a spot and a day where there were barely any tracks. That was the biggest concern, so we tried to do our best with planning around weekends and spring breaks, but it was still a total crapshoot and we somehow got it right.
TN – How long was the film shoot, and the process from start to finish?
JP – We had 2.5 of actual shooting for 12 pages of script. 1 on the dunes and 1.5 on the green screen, and one build day in our LA studio. I had renewed the option a few times because things kept popping up. A new full time job, I got married, honeymoon, holidays. My producer and I had been planning for a while, but then it was time to move, and it was now or never. The specifics came together extremely fast at the end. I know now how to plan things different for next time.
TN – What is the greatest moment so far with the success of BEACHWORLD?
JP – Honestly I'm just so glad it's DONE, and I'm happy with it, and the cast and crew are happy with it. Everything else is icing on the cake.
TN – Sadly, there was tragedy with the loss of one of the actresses from the film, can you share with us your thoughts about that?
JP – It was a shock to receive the news. Lyn Ross, who played Captain Reyna, was such an incredible talent and a joy to direct. She had to run to a table read right after wrapping the day we shot, and still let us cover her with blood. She was incredibly gracious. Her passing was unexpected, and an incredible loss to the world. I'm very sad that she never got to see the film. She is amazing in it. It was a very sharp reminder how fleeting life is, and puts everything in perspective of what to truly value. It makes me value this experience even more because her legacy is a part of it.
TN – What Stephen King story would you like to adapt on a larger scale, and why?
JP – The Girl Who Loved Tom Gordon! It's the story of a young girl who survives a week lost in the woods. It's a beating the odds story, and one that explores the idea of self-worth. When you are all alone and in the shittiest situation, there's no one who can save you but yourself. It has a lot of the same themes of isolation as Beachworld.
TN – Where, and when can fans see this film? Will it be playing at film fests around the world?
JP – We have a few festivals lined up so far: Dragon Con in Atlanta, Adirondack Film Festival in Glens Falls NY in October, a Dollar Baby Film Fest in Rijen, Netherlands. We are still waiting to hear about many more! Our website www.beachworldfilm.com and FB page www.facebook.com/beachworldfilm will stay updated with all the screening dates. We can't wait to get this out into the world for fans to see.
TN – Lastly, what's next for Jackie Perez?
JP – As for me, I'm focusing on completing some new scripts and coming up with an idea for a feature film to shoot in Bahrain. I'm looking forward to a visit back to the US for some Beachworld screenings!
Tags: JACKIE PEREZ - Interview
Posted in Interviews by Tony Northrup on July 28th, 2019 at %I:%M %p.