RANK: 6/10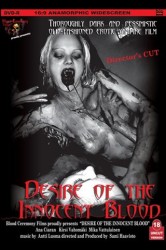 A young woman with a white veil on her face proceeds shuffling between trees and leaves lifted up by the wind, careless of rain flowing down. Pale obscurity doesn't hide her figure who slowly and relentlessly is coming back home, to the house where she lived with her young husband, before death devours her body.
Haavisto is a director who wants to dare, experiencing also grounding on splatter movies' linestyles: he follows two roads running in parallel on the same unbroken line. By one side he searches for novelty deciding to film in black and white without speaking but using written dialogues, recreating the fascination of silent cinema of first decades of past century. By the other side he sketches a classic vampires story where lesbo intercourse and well balanced bloody dose never lacks, following a linear crescendo. What is the problem?
The weak spot of "Desire of the Innocent Blood" turns out to be this choice that someway (probably for budget reason too) weighs down events running because of not fully accomplished. Taking the decision to colour in black and white, why don't use dirty images scratching film (there are so many programs useful to work on digital frames)? Why don't exasperate actors movements taking back to the screen the mime characterizing that old cinematographic years? Why don't use a lesser "modern" and "professional" editing?
These are the questions jumping out automatically in spite of praiseworthy idea, excellent research in music recreating past atmospheres, great settings (as inside ones, inn and woods). An experiment not completely turned out but that surely deserves a praise for the brave choice.
RANK: 6/10
Cast: Ana Ciaran, Mika Vattulainen, Kirsi Vahomäki
Posted in Horror by Giulio De Gaetano on November 1st, 2011 at %I:%M %p.