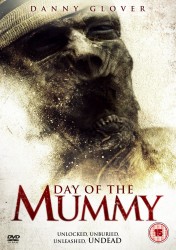 Egypt: the land of the Pharaohs, a place steeped in history and legend. But those who come in search of riches beware, something lurks among those tombs, something that cracks bones and spills blood, something that will stop at nothing to guard what belongs to them. Day of the Mummy starring Danny Glover rises onto DVD on 20 October 2014 from Image Entertainment.
Jack Wells arrives in Egypt in search of famed diamond, The Codex Stone. His journey leads him to a team of archeologists who are exploring the recently discovered tomb of the cursed King Neferu. With his centuries old slumber disturbed by timeless human greed, the King rises from the dead with a blood‐lust that cannot be staunched and a raging fury that will shred flesh from bone, bringing terrible, tormented death to all who dare witness Day of the Mummy.
Enter the tomb of the Mummy at your own peril.
Title: Day of the Mummy
Release Date: 20 October 2014
Cat No: IMAGE 4015
RRP: £12.99
Running Time: 77 mins approx
Certificate: 15
Audio: Dolby Digital 2.0 and 5.1
Aspect Ratio: 16:9
Posted in News by Giulio De Gaetano on September 27th, 2014 at %I:%M %p.