RANK: 8/10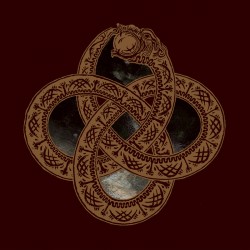 Atmosfere eteree e slanci black metal, chitarre acustiche e tempi dilatati, riff malinconici e urla lancinanti: sono tornati gli Agalloch. Assorbendo l'eredità di Pale folklore, sfiorando le atmosfere di The mantle e inglobando echi da Marrow of the spirit, ecco sopraggiungere The serpent and the sphere.
La band dell'Oregon straccia via ogni velleità sin dalla meravigliosa opener "Birth and Death of the Pillars of Creation", connubio di sonorità acustiche e accordi aperti di elettrica, sorretti da suoni di synth melodici e grida soffocate di dolore, segue con gli arpeggi classici di "(Serpens Caput)" (analogamente ripresi nelle successive "Cor Serpentis (the Sphere)" e "(Serpens Cauda)") ed esplode nella doppia cassa black di "The Astral Dialogue". Il vero elemento distintivo sta nell'aggiunta di sezioni dal sapore fortemente doom, vero e proprio sigillo differenziante per questo lavoro degli Agalloch, che non lesina altri spunti originali come il finale di "Celestial Effigy".
The serpent and the sphere riesce, quindi, ad assimilare l'esperienza del passato della band, filtrandola attraverso le sperimentazioni del presente, in un connubio che non può che sfociare in un disco fortemente evocativo ma al contempo potente. Assolutamente da ascoltare, sia per i fan di vecchia data sia per colore che adorano perdersi in realtà (sonore e non) parallele.
Tracklist
1. "Birth and Death of the Pillars of Creation"
2. "(Serpens Caput)"
3. "The Astral Dialogue"
4. "Dark Matter Gods"
5. "Celestial Effigy"
6. "Cor Serpentis (the Sphere)"
7. "Vales Beyond Dimension"
8. "Plateau of the Ages"
9. "(Serpens Cauda)"
RANK: 8/10