RANK: 7.5/10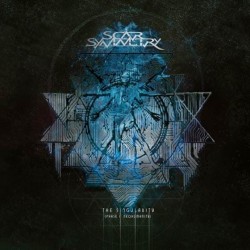 Primo capitolo di una trilogia futuristica, l'ultimo lavoro degli svedesi Scar Symmetry è il giusto connubio di sonorità death metal con melodie arricchite da eccellenti clean vocals, stavolta rivolte verso una matrice più progressive che non cupa e apocalittica, come nel precedente The unseen empire.
Come già accaduto per Holographic universe, l'impatto iniziale non è per nulla semplice, dove per il citato album della band la difficoltà di assimilazione era legata a chorus in tonalità maggiore che (apparentemente) stridevano eccessivamente con l'impianto ritmico delle canzoni, The singularity risente a primo ascolto della componente progressive che, se da un lato dona freschezza e imprevedibilità alle canzoni, dall'altro le rende difficili da assimilare.
Per Nilsson si rivela nuovamente un chitarrista abile e inventivo, specialmente ascoltando il lavoro svolto con "Children of the Integrated Circuit (instrumental)" o  "Cryonic Harvest", mentre l'alternarsi di growl e clean vocals di Robert Karlsson e Lars Palmqvist esplodono nella conclusiva "Technocalyptic Cybergeddon" che, oltre ad avere un titolo a dir poco bizzarro, riesce ad aprirsi in un ritornello decisamente azzeccato, ponte di transito verso il prossimo capitolo.
Tracklist
1. "The Shape of Things To Come"
2. "Neohuman"
3. "Limits to Infinity"
4. "Cryonic Harvest"
5. "The Spiral Timeshift"
6. "Children of the Integrated Circuit (instrumental)"
7. "Neuromancers"
8. "Technocalyptic Cybergeddon"
RANK: 7.5/10