RANK: 6/10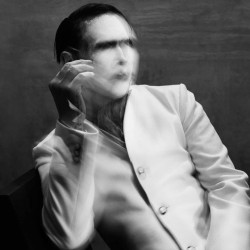 Artista tribolato, dalle mille sfaccettature, mai banale nonostante le apparenze sia a livello di immagine che di musica che di lyrics, ormai da anni appeso ad un cappio (sonoro) da cui non riesce a divincolarsi, ecco aprirsi in questo 2015 un nuovo percorso per il reverendo (ex?) Marilyn Manson, un tragitto che inizia con la cadenzata "Killing strangers", song che tratteggia il carattere dell'intero disco.
"Deep six", primo brano ad aver fatto il giro del web, possiede un riff di chitarra indimenticabile ponendo ottime premesse, supportate dall'altrettanto riuscita "Third Day Of A Seven Day Binge". La chitarra malinconica Twiggy Ramirez sussurra strade desolate in "The Mephistopheles Of Los Angeles" e la decadenza continua con "Warship My Wreck". La corda tesa, però, si inizia ad intravedere dalla successiva "Slave Only Dreams To Be King" in quanto il pattern sonoro, fino ad ora piacevole, sembra ripetersi in loop, come se di fondo ci fosse sempre la stessa canzone che gira in eterno nel lettore. "The dope show" riecheggia fortemente in "Birds Of Hell Awaiting" e bisogna attendere "Day 3″ per ritrovare un brano acustico che, seppur senza far gridare al miracolo, almeno rompe la monotonia.
The pale emperor è un disco riuscito a metà, malinconico e dal rugginoso sapore "country" (occhio alle virgolette), che riunisce alcune sonorità del discreto Holy Wood (In the Shadow of the Valley of Death), si libera dal fardello simil-pop di Born Villain o Eat Me, Drink Me, ma che rivela ancora una volta un'incapacità dell'artista di trovare la propria dimensione. Restiamo in attesa.
Tracklist
1. Killing Strangers
2. Deep Six
3. Third Day Of A Seven Day Binge
4. The Mephistopheles Of Los Angeles
5. Warship My Wreck
6. Slave Only Dreams To Be King
7. The Devil Beneath My Feet
8. Birds Of Hell Awaiting
9. Cupid Carries A Gun
10. Odds Of Even
11. Day 3
12. Fated, Faithful, Fatal
13. Fall Of The House Of Death
RANK: 6/10
Posted in Rock by Giulio De Gaetano on gennaio 19th, 2015 at %H:%M.