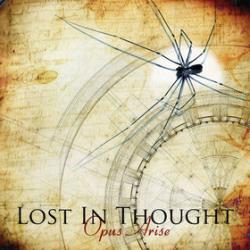 Con un solo EP alle spalle datato 2008, i gallesi Lost in Thought si lanciano prepotentemente sulla scena prog metal, figlia in parte di echi provenienti dai Dream Theater ma dalla matrice imbastardita dall'assalto sonoro dei Circus Maximus, passando per le melodie catchy tipiche degli Scientic e gli affresci acustici dei Sieges Even. Per cui architetture sonore tipiche del prog ma con derive non scevre da influenze puramente metal.
L'iniziale "Beyond The Flames" è portentosamente sospinta da riff di chitarra pieni ed aggressivi che via via si modulano in atmosferici fraseggi che esplodono in un ritornello dalla splendida melodia, grazie anche ad una prestazione canora di Nate Loosemore, vero e proprio elemento distintivo del lotto, capace di innalzare la propria timbrica pulita su acuti da brivido, in un cantato emozionale e mai accademico. Come non citare il dittico "Blood red diamond", brano maggiormente melodico accompagnato da splendide armonie di tastiera, e "Seek To Find", altra song caratterizzata da soluzioni molto orecchiabili mentre la perizia tecnica dei vari musicisti si esprime senza invadere con lungaggini inutili il tiro delle canzoni.
Unica nota debole la ballad acustica "New times awaken", strano visto che le melodie presenti nelle precedenti canzoni lasciano sperare un intermezzo da brivido, purtroppo è così. Citiamo, infine, l'emozionante "Lost in thoughts",  brano di oltre 7:30 aperto con soluzioni prog simil-Dream Theater ma caratterizzata da evoluzioni personali e tipiche di una band che non vuole solo mescolare influenze, divenendo portavoce di un genere dove troppi big spopolano lasciando poco spazio alle nuove leve. Se siete amanti del genere Opus Arise non può che far breccia, specialmente considerando che non vi è mai un calo di tensione o di qualità. Lasciatevi cullare dai refrain sognanti o dagli intermezzi prog roccioso, scoprirete nei Lost in Thought un volto da tenere in considerazione per il futuro.
Tracklist
1. Beyond The Flames
2. Entity
3. Blood Red Diamond
4. Seek To Find
5. New Times Awaken
6. Delusional Abyss
7. Lost In Thoughts
8. Assimulate, Destroy