RANK: 8/10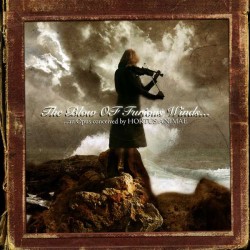 "Furious Winds / Locusts" getta immediatamente le basi che saranno rispettate e seguite nelle successive songs: melodia e cattiveria. Riff melodici, assoli ben eseguiti, ritmiche serrate e specialmente tastiere che si pongono come manto a tanta potenza. "The Mud And The Blood" rispetta le regole dettate con riff stavolta più melodici e aperti, qui è la voce a farla da padrone in quanto a carica nefasta.
I 10 minuti di durata si spezzano in due, con la seconda parte caratterizzata da una sentita sezione strumentale che a tratti ricorda i break dei Cradle of filth del magnifico "Dusk…and her embrace", quando i tappeti oscuri e malinconici creati dalle tastiere supportano assoli di chitarra lenti ed evocativi. "The Heartfelt Murder" si apre come un pezzo di musica classica, sviluppandosi in una marcia di guerra anthemica su un mid-tempo abilmente domato dalle percussioni di Grom. Sulle stesse coordinate verte "The virgin whore" smorzando un po' troppo l'evoluzione del disco e non risollevandosi neanche con il melodico ritornello in cui la voce di Lucifer non convince.
Perla del disco "In Adoration Of The Weeping Skies", ballata, se così si può dire, in cui melodie ariose e soavi del pianoforte sono soffiate dal vento (non più furioso come recita il titolo del disco) fino alla sferzata centrale dove la voce da bisbiglio muta in urla disperate ed il binomio cassa/rullante risolleva la bufera. Il brano mi ha rievocato le atmosfere create dagli Agathodaimon di "Chapter III" (per la precisione "Sacred divinity"), ed è una nota molto positiva. Ritorna il black più estremo (ma mai old school) con "Across The Sea Of Pain" e "Bible black", anche in questi due episodi persistono gli arrangiamenti sopra le righe ed i violini che ben si amalgamano al contesto. Triste l'inizio di "A Gothic Ghost / The Death Of All Beauty" dove un violino accompagna la voce pulita incrociandosi con il pianoforte dando vita ad un brano molto intenso. L'unico dubbio che nutro riguarda la voce pulita, non abbastanza piena e profonda.
"Garden Of Fairies" esula dal genere, avvicinandosi alle volte all'epic, altre all'heavy più moderno grazie all'uso di synth e di un basso pulsante. A tutti gli effetti il pezzo più sperimentale, ma ancora acerbo anche se lascia intravedere le possibilità di sviluppo futuro del combo. "The Fairy Fellers Masterstroke / Nevermore" è un medley dei Queen, sinceramente la prima lascia il tempo che trova, sembra un brano folk-black troppo "allegro" per non stonare col resto, mentre la seconda è sicuramente più sentita e simile, nei limiti, all'originale. Altra cover "Windfall / Summoning Of The Muse" stavolta dei Dead Can Dance, supportata dalla splendida voce di Liv Kristine (ex Theatre of Tragedy) si avvicina maggiormente al sound della band italiana.
In definitiva un album ben congegnato, costruito ed eseguito. Si pone oltre le aspettative prospettate da un disco semplicemente di black sinfonico, infatti gli intarsi gothic e gli ottimi arrangiamenti la fanno da padrone. Lo sconsiglierei vivamente ai puristi dell'old-school di matrice Darkthrone o Mayhem in quanto le sfuriate sono limitate e le atmosfere più malinconiche che opprimenti e malsane. Da non dimenticare il concept celato dietro il disco che narra delle società massoniche dell'ottocento. Ottima prova, intensi ed originali.
Tracklist
Chapter One: Furious Winds / Locusts
Chapter Two: The Mud And The Blood / Funeral Nation
Chapter Three: The Heartfelt Murder
Chapter Four: The Virgin Whore
Chapter Five: In Adoration Of The Weeping Skies
Chapter Six: Across The Sea Of Pain
Chapter Seven: Bible Black
Chapter Eight: A Gothic Ghost / The Death Of All Beauty
Chapter Nine: Garden Of Fairies
Appendix 1: The Fairy Fellers Masterstroke / Nevermore
Appendix 2: Windfall / Summoning Of The Muse
RANK: 8/10